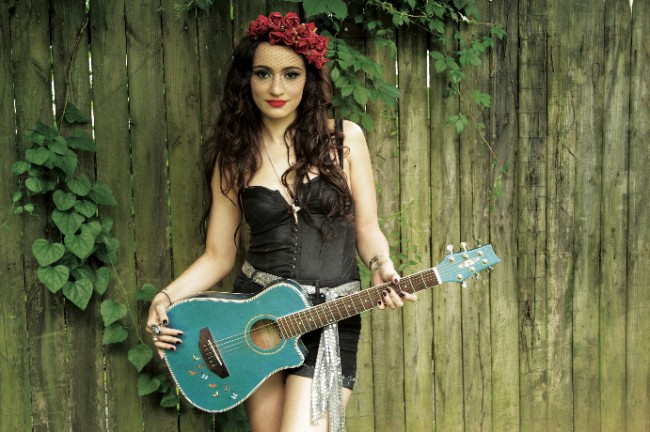 Canadian-born Lindi Ortega knows what it's like to be a struggling musician. After ten years cutting her teeth as an indie artist on the Toronto music scene, she now has three successful albums on Last Gang Records under her belt and has moved to the spiritual home of country music, Nashville. With a growing following in the UK and a tour planned for the new year, we spoke to this rising country star to find out how the years of grind have influenced her music, and what advice she'd offer other artists trying to succeed. We also snaffled this rather excellent live premiere of new track, 'Hard As This'….
You were born and raised in Canada but moved to Nashville where you recorded your last album. Why the move?
I make music that has a strong country thread throughout it. It was important for me go to a place that was part of the history of the music that inspires me. All of the classic country greats had some affiliation with Nashville at some point in their careers. Though the Nashville music scene has changed since then, that history will always be part of it and will always remain an inspiration to people who make any kind of country-influenced music.

What is it about the place that means so much great music has come out of it?
Well, it's very similar I suppose to Hollywood and how it is for actors. It just became this epicentre for the action at one point and never lost its steam. I think Nashville bore great musicians due to places like the Grand Ole Opry. There was great allure for country artists back in the day to play the Opry because it helped build careers for people and it was a difficult gig to get back then, so if you got invited to play there it meant your career was on the rise. The other side is that it also became a business hub, and started to attract musicians looking for work.
Do you miss the Toronto music scene?
I love Toronto. And I love rolling through playing shows. It's taken me a while to get an audience and gain recognition there. But it's lovely now to go back and be able to pack out a room. As for the music scene itself – it was never really a scene that easily embraced the kind of music I make. There's really only one country-esque venue in Toronto (The Dakota Tavern). But before that venue existed it was difficult for me to try and find an audience. I wouldn't say Toronto as a whole is a big country music market.
Tin Star got great reviews in the UK. What do you think it is about your distinctly country sound that appeals to a British audience?
I think they just like stuff that's different, as we do down here. They like music they don't normally hear so much of so it has this kind of foreign appeal.
You're quoted as saying, "The song 'Tin Star' speaks to the plight of the struggling musician." Are you referring to your many years as an indie artist?
Sure. I'm speaking to anyone and everyone that tries to make it in this crazy business. It's a rough road, unless you strike it lucky early on. But most of us have to work our asses off for years and tour hard to make a living. It can be daunting and grueling but we do it because we are passionate about it and we love to make music. So I had to write a song in tribute to that. I felt it was important to acknowledge people who don't have fame and glory and not for lack of trying or talent. They just haven't got that lucky break.  I wanted to say to all hard working musicians, "I hear you, I get it and I appreciate you."
What would you say to artists out there struggling to be heard or make a living?
I would say…learn to appreciate your struggle and make sure you absolutely love making music.  I would recommend reading 'The Myth Of Sisyphus' by Albert Camus.
What were your other inspirations on Tin Star?
There's a song inspired by my favourite painter, Frida Kahlo; there's a song inspired by my favourite US city, New Orleans, and then of course I always seem to write about loneliness and heartache…. Maybe cause I find myself often lonely and heartbroken. I tend to write about what I know and what I've experienced.
You've said that it's important to keep your sound fresh – how do you intend to do this and what are your plans for the future?
I've been aiming to do this by working with different producers and musicians for each record. I think it shakes it up when you have a new crew of folks interpreting your songs from their skeletal form of just guitar and vocals.
Tin Star is out now on Last Gang Records