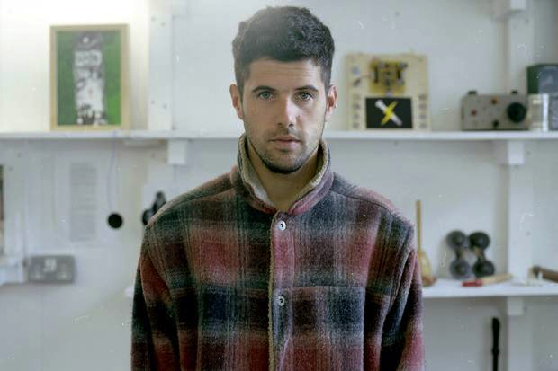 Rarely has there been so much industry interest in the solo project of a former hang player – even one that belonged to such a group as the Mercury-nominated Portico Quartet. But since embarking on his solo career, Nick Mulvey's star has risen with the force and speed of a well-honed missile. Two years after going it alone, he's released an EP – Fever to the Form –  to ecstatic reviews and is, at the time of our interview, supporting none other than Laura Marling.
When we encounter the new face of intelligent, world-folk he's eating a pesto and tomato pizza  – no cheese – in his distinctly unglamorous dressing room prior to his support slot at Bethnal Green's York Hall. 'I love cheese,' he tells us, 'but it's not so good for the voice.' We mumble something about the evils of dairy before dispensing with the pizza talk and moving on to far more serious matters….
In 'Fever to the Form' you sing "Whether music or madness/I live by one of the two", and have described this as "what the choice between the band and my own music felt like to me." That's pretty dramatic stuff…
Well, it was the first song I wrote after leaving the band, and by madness I meant more daily, familiar madnesses as opposed to anything extreme. I felt this kind of funny irony when touring with the band which was that, even though we were gigging every night and outwardly doing a lot of music, I was actually very uncreative – very unmusical actually. But at the same time I had all these songs… So I felt like the choice was the music or being unhappy.
You always take pains in interviews to say you're still good friends with the rest of Portico. Do you think you got out at the right time?
I think so. We were just around the corner from doing a third album and I thought, if I didn't alter this process now, and we continued to not speak about the obvious thing which was that I wasn't gelling any more, then we would be in the studio with the pressures of a budget – and then we would have been in a pickle.
How did you end up playing hang? [a type of steel drum]
Total chance! When I stumbled across the hang I loved it and immediately found it very easy to play. I was initially playing guitar and singing, but one day the band came up to rehearse in our student halls of residence and I got my hang out and everyone played around it and the blueprint was self-evident, right there – all our roles, the space we took sonically – was just effortless. I didn't really mind leaving the guitar – I loved music, nothing else mattered. But by the fourth year it started to bug me that I wasn't a better singer than when I was 18, and by the fifth year it became intolerable.
Do you miss playing hang?
Not really. I saw the boys at Wilderness back in August, and it was the first time since leaving the band that I had a little pang. Generally I don't miss it – the decision was so right, everything slotted into place and I just trusted that – but there have been moments when I've missed them. That was when I was starting to interact again with the industry, and I'd be on the train home and be like – 'This is the point when we'd start to discuss things.' But that's not even a bad thing cos' I had to learn to trust my intuition and this is the way I have to do it.
How does it feel being on stage alone?
It feels great! That's not a comparison with the band, that felt great too except the last bit, but…I know what I want musically and it is great to be able to just do that.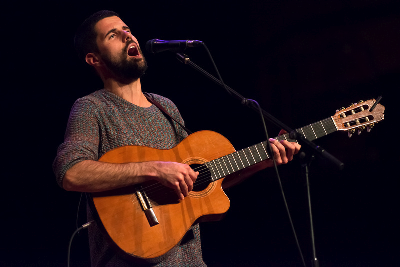 So what are your influences now that you're writing solo?
All the songwriters I listen to, from the Beatles to Bob Dylan to Joni Mitchell, Neil Young…Then there's the African music I've been listening to. I'm deeply into Malian music and the contemporary stuff that's coming out of there – Toumani Diabaté, Ali Farka Touré, the Congolese stuff and Zimbabwean pop – it all feeds into the guitar, it's always got motion, it's very groove driven. Then that's directly related to the modern Classical that I like, and so the songs fall somewhere within that diagram. I like the vernacular, I want to communicate – it's not art music.
'Juramidam' reminds me a lot of Malian music actually. Is that song particularly rooted in African sounds and structures?
It's really funny because often I don't think about it in advance. It just came out that way! I knew I don't like complex harmony, it makes me queasy. I'm happy with just one chord, but I like rhythm and texture. So I wasn't really thinking – 'Am I drawing from this genre, or this artist?' I was thinking more about the fundamentals of the music. I just try in my practice to not get in the way of it and let it happen.
Your music does sound very instinctive and visceral, but at the same time you're obviously a really accomplished guitar player. Where and how did you study? Because you don't just pick up the guitar and teach yourself to play like that!
I did! [laughs] Well, it was somewhere in the middle, because basically I'm self-taught and I picked up the guitar quite late, when I was about 18. I instantly liked it, cos' the left hand is all the piano that I'd learned – all the harmony, all intellect – and the right hand was all the drumming I'd done – much more intuition and rhythm. I played every day and then I went and had some lessons in Cuba and picked up a lot of stuff just jamming every night. Then I had about ten lessons with this Congolese guy in East London, and he taught me 1960s Congolese pop classics! Besides that I'm self taught, but I really milked those lessons.
You've toured with some amazing people this year – Laura Marling, Lianne La Havas, Paul Thomas Saunders and Jamie Cullum. Which was your favourite support slot?
Each one's been completely different. I think touring with Lianne La Havas was amazing – she's an absolute sweetheart and the whole band just sort of took me in. But in terms of the concerts themselves, this one with Laura's the best because it's a sit-down, concert hall vibe.
Nitrous, the album, is out in a few months – how has your style developed since Fever To The Form?
Nitrous is different from Fever because it was a different exercise. We'd done Fever to tape and we tried this one on computer so Nitrous was much more digital. The other thing about Nitrous is that I didn't plan any of it – we just went to studio and I always see what comes out, but at the end it felt more poppy, more produced. It's way beyond just the sort of folk guitar thing – there's a lot going on in there!
Single 'Nitrous' is out now on Fiction Records
2nd photo credit: Steve Roche Photography