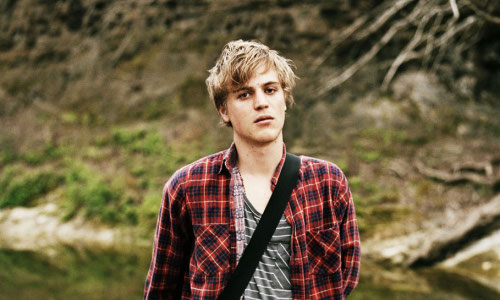 The soft-spoken folk artist and his band, Johnny Flynn & The Sussex Wit, are touring the UK this October with new album Country Mile – the fruit of two years of work squeezed into free moments between Johnny's burgeoning acting career and full-time role as a new dad.
Johnny's in America when we speak, in Kansas City for his final gig supporting Mumford and Sons. He was in Dallas last, he thinks. Or was it Houston? He explains, "The band and I are driving ourselves around the US, following the huge circus that is Mumford and Sons. There's a bit of a last-day-of-school atmosphere tonight. It's been pretty crazy, playing to 20,000 people each night in huge arenas, there's a massive amount of noise. The fear of playing to crowds like that can completely consume you, or you can ride the wave of joy."
Johnny has watched his career, along with those of folk contemporaries such as Laura Marling and the ubiquitous Mumford, sky-rocket in the last few years, and he sounds like he can't quite believe how much things have changed. "My ultimate gig is playing in a little club," he says. "It makes me feel like I've got everyone in the room and I'm holding them to my chest. It's been five years since [the band and I] toured with Mumford supporting us, and I can remember nights when we'd all play to pretty deserted venues – once we played in a pub in Swindon to just one man."
It's not just the folk scene that's transformed since then. In the years since his last album, 2010's Been Listening, Johnny's gotten married, had a baby and made a movie ('Song One', in which he stars with Anne Hathaway). Unlike previous records, churned out in a matter of weeks, new album Country Mile was put together at a leisurely pace with his bass player and long-time friend Adam Beach. Johnny's excited about the lack of urgency in its creation:
"The album came from a lot of different periods of time over the last two or three years. I have a small recording space set up near my house in East London; it's this weird little broom cupboard. We'd have to wait for the death metal band next door to stop practising so that we could get a vocal take! We took our time, and the album is something that's been slowly distilled. I'm happy with every part of it – it feels sandblasted, worn in."
FFS saw Flynn perform his new clutch of songs in a tiny dark room in Bristol, playing solo to a spellbound crowd. Johnny loves playing with his band for 'the company, and the full arrangements of each song', but watching him sing them alone is a delight. Country Mile's offerings are slower and gentler than previous barn-stomping tunes. The lyrics, however, are as Flynn-ish as ever, roaming about from earnest sweetness to Shakespearean grandeur.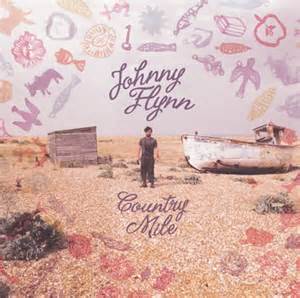 Title song, 'Country Mile', is named for the term for an indefinite distance, and the album loosely follows the allegory of a journey. Flynn cites the writing of Robert MacFarlane on the call of the great outdoors as a key influence. "I like going off on walks on my own," he tells us. "I have a yearning to be in nature – that's how I feel I spent my childhood, and I've been looking back at that time a lot. MacFarlane writes about the benefits of rambling on ancient paths – your consciousness expands to include that of people of who have walked along that path before you. There's something amazing about giving up a busy daily routine and just going off walking. I don't feel at home in the city any more, especially since having a child."
Despite a crackly Skype connection, Johnny's voice is warm and tender when he talks about his son, Gabriel. "Any time now when I'm not working I want to be with my family," he admits. "It's hard being away – I get a funny feeling in my chest around now, when there's another week to go before I see them. Before, I'd be on tour and lost in the experience. Now, I want to rush back to them. I wrote 'Einstein's Idea' as a lullaby – it that came from a new-found tenderness for my son, this little sprog."
The charming lyrics echo his words. "Come let's be gentle, be soft in my arms/There's moonstorms been brewing and grain in the barns/Your mother is sleeping, I'll play my guitar/The twilight is keeping us close to the stars."
words: Sian Lewis
Johnny Flynn & The Sussex Wit will tour the UK this October, with support from Marika Hackman and Cosmo Sheldrake. New album Country Mile is available to order now.