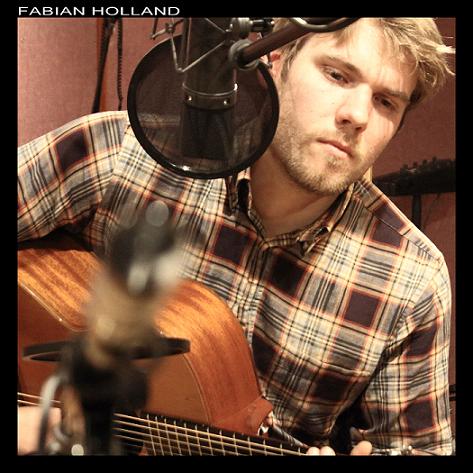 Story telling has always been at the heart of folk music, and this year has seen a surge of up-and-coming artists combining a great yarn with excellent musicianship. Joining the ranks of fellow rising stars such as Nick Mulvey and Pete Roe is Fabian Holland who learnt his craft up an Italian mountain and whose eponymous debut album is soon to hit a Sainsbury's near you. Don't let potential supermarket domination put you off though – Holland is as authentic and genuine as they come and, as we discovered at the album launch, an exceedingly nice chap who soldiered through both gig and interview despite a nasty cold. Bless.
Let's start at the beginning – how did you get into music?

It was my dad, really – my dad played harmonica and guitar, and my granddad played four-string guitar in a jazz three-piece. So my dad encouraged me to play guitar and I started from about 7 playing acoustic, and then I went on to electric.
You spent some time at music college too…
Yes, in Guildford. I went when I was 16 and I spent a few years there. I didn't go on to the degree because I was very young and I felt I needed some experience in the real world of gigging.
So you then went on, Bon Iver-style, to spend some time in the Italian mountains – what was that all about?
Yeah, well my parents have got roots in Italy – they've lived and worked there and they always wanted to retire back to Italy and they basically said, 'We're going to sell the house and move to Italy and you can stay here or come.' And I was like, 'I think I'll come, that sounds like fun!'
How did it effect your music?
Oh, massively. Before that I was working in a music shop and my music really wasn't going anywhere. Then I moved into the mountains in the middle of nowhere and it just gave the space to think about what I was doing, follow my ears and explore. We moved into a house that didn't have electricity and I had all this studio equipment and electric guitars but I couldn't use any of it! I had this beaten up acoustic where the neck was bowed, so I played it like a lap slide every day and that's how it progressed – I sold all my electrical equipment and just kind of went on that pathway.
Moving on to the album – the story-telling element is really strong. Where do you get your stories from?
All sorts, anywhere – it can come from the smallest of things or people I meet along the way. They're not necessarily true, I just kind of adapt on that character.
Do you ever write about anything personal?
I do, I do – very rarely, but having said that I take bits of characters and put in little bits about me – but 'Home' is definitely a personal one. I was living in Bristol on friends' floors and sofas and busking to pay my way, and I really missed home. But I'd only been back in England a year or so to pursue my music career and I felt I couldn't go back [to Italy] – and that's how that song came about.
What brought you to the point of recording and finding a manager and all that?
It was a video I'd posted up. A friend of mine, Bradley Porter, he does all these short films and filmed this music video for 'The Landlord's Daughter' and Mark from Rooksmere Records saw it online and got in contact. He came to see me play life a few times and then we got talking about an album and the rest his history!
That's probably our favourite song on the album, but it's also the darkest. Where did the story come from?
It's partially from my head and also, there was a girl at school and her dad was really protective over her and all the guys kind of knew that…so that sort of element I just grasped and made it my own.
It's very sinister… [an over protective father beats and kills the lover of his daughter, who then also meets with a tragic end]
Yes, it is…I can't remember if I wrote the music or lyrics first for that. I don't really have a structure when I write songs…
How do you approach song writing?
Sometimes I write the lyrics and music separately and put them together, but there's no real structure… I try not to force it – just let it come, you know?
So the Sainsbury's thing – how do you feel about potentially being in their CD section?
I don't know! It's a bit weird. I remember working there and I didn't really like it…so it's just very, very strange.
Can you tell us about your very interesting living set-up?
Yeah, I live on a boat in East London! I was looking for a place to live and didn't have any money or references, and I saw this guy online with an advert for a bed on his narrow boat and I took him up on that. I fell in love with the lifestyle and then managed to borrow a bit of money and bought a boat. I knew nothing about boats but I decided to gut it and build it and make it my home. I wouldn't want to live any other way, I love it.
Do you know any sea shanties?
[laughs] You know I don't think I do! I have pondered with the idea of looking at sea shanties and especially the working boats, the coal boats back in the 30s – there are loads of songs about that. It brought up the idea of going on a little tour of all the canal side pubs – I don't know how long it would take me…
Particularly if you have a drink at each one…
Yeah, and you know you finish a gig and then you've got to set off for the next one and it takes 3 days to get there!
We know you're not very well today, so can we just ask what your plans for the future are?
Just keep playing – that's always been my plan. Hopefully another album, collaborate as much I can, keep learning and follow my ears. See where the road takes me…