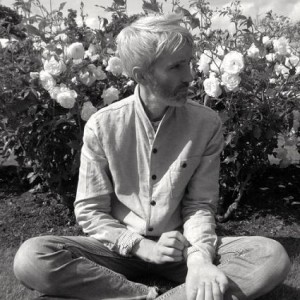 Born and bred in a Yorkshire mining village, Padraig Whelan makes music as honest, fresh and beautiful as the surroundings he grew up in (we're guessing – writing this from South London, everything north of Watford sounds idyllic). Elegiac, dreamy melodies wrap themselves languorously around delicately strummed guitar and stories have all the time in the world to unfold. Fans of Dan Haywood, Fionn Regan and, like, really great folk, should check this out.
Hello, please introduce yourself and your music to the uninitiated.

Hello. I'm from the West Riding of Yorkshire but now live in London. Although I didn't like it at first, I've been enjoying it of late – walking around, taking pictures, spending a lot of time reading and writing.
Tell us a bit about your latest release?
The Sealed Knot EP. It's my third release and I'm still being quite restrained with everything. I really like it. I drew several different covers for it, agonised over each and then decided against all of them in favour of a complex, textured matte finish. Simon Raymonde (of Bella Union) premièred 'Blind Love Is King' on his Amazing Radio show & Gideon Coe has been playing it on BBC 6 Music too. A pretty good start! Hopefully it'll get around a bit more and I can keep working towards building an interesting history. I've got another EP ready and I'm about to start recording an LP…
What was your best ever gig?
Bush Hall in London is a nice place to play. As is Anciennes Belgique in Brussels. The Gladstone in Borough is probably nearest to my heart though, a cracking little venue and it's always full of the loveliest, most receptive people…
What's the worst thing about being a musician?

Being pushed by music industry types to promote what you're doing all the time on social networking sites. Not everyone has the need to share every moment or be liked and approved of. The times I've been told: "I love this, it's beautiful, the best music I've heard for ages, humanity would benefit immensely from the passion and wisdom within etc., get 10,000 likes on Facebook and we'll invest in you!" It's not cool. Not cool at all. OK, negative period over.
What inspires you?
Right now, coup de foudre. Joe & Becky's garden in Plaistow. Smoking hash with Yuni. and the long train journey between London & Doncaster, where I've been going to see my Nan a lot lately. England's so beautiful in the sunshine huh? All those long, dreamy yellow fields…
If you won a billion pounds what would you do with it?
Something practical. Something useful! Maybe give it to the mice to make bedding with? I really like this, suggested by William Blake in the late 1700s: 'For every pleasure money is useless'.
Which of your songs is your favourite and why?
I don't really think about them like that. They're just snapshots, photographs of a particular time. I'm not even sure that I have favourites. I'm actually searching for a definition online, something I seem to be doing more and more of lately. Which means I'm either actively expanding my lexicon and linguistic knowledge, or I'm getting fucking stupid.
What are your plans for the future?
I'm gonna meet Jamie in The French House later. Have a few beers and do a bit of people watching in Soho. You want to come? I think we're gonna' meet at 3pm. He'll be late though I imagine. I might be late too actually, Neil lent me this beautiful electric 12 string that I want to have a blast on before I head out. Let's say 3.30pm? No, 4pm. Let's be safe. 4pm, French House.
Finally, we're always looking to expand our musical horizons. Do you have any recommendations of bands or artists we should be looking out for?
Dan Haywood, Death To Dreaming, Dutch Barn. Anything beginning with D, basically. David Hockney. Diana Ross. Do Make Say Think. Dylan Thomas. Oh, and the new Goldheart Assembly LP. And Arborea. And Vive La Rose.  Too many. All wonderful.
Sealed Knot EP is out now – listen here