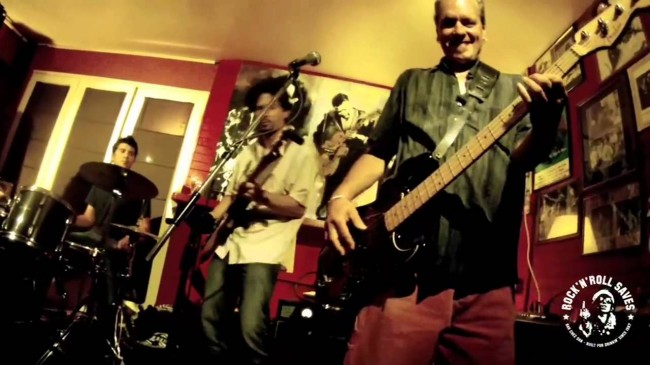 Texas Cannonballs officially came together in 2011 via the notorious blues spot in the SouthWest of France, Bar Chez Dan. Consisting of Hector, Chris, Preston and Jim, these guys are musical legends in their own right. Having all played along a vast array of artists including Blues Brothers, Etta James and Ray Sharpe; they have genuinely seen, played and done it all. Having been friends for over a decade too, they said an album was 'inevitable', and a mind-blowing one at that. FFS had a chat with Chris, Preston and Hector about what they've been up to, and their current plans for the future. 
Hello, please introduce yourself and your music to the uninitiated.
C: My name is Chris Ruest. I currently have 3 CDs under my own name. "Too Many Problems" " No 2nd chances" and " live at shakespeares" and I have just recorded a new project called The Texas Cannonballs….
H: Hector Watt, guitar, vocals. My influences have always been Jimmy Reed, Eddie Taylor, Freddie King, and of course The Rolling Stones. These come from way back as a kid, Jimmy Reed's sound was killer, mean and nasty. Others are Slim Harpo, Houndog Taylor: the rock n' roll of The Blasters.
P: Blues, jazz, rock n' roll player. Anything that's real!
Tell us a bit about your last/latest single?
C: No 2nd chances stayed at #3 on BB Kings Bluesville for 3 months and #1 on the Living Blues charts for 1 month…. a Blues and Rock n Roll CD which was all original material.
H: We wanted a recording more cross over than pure blues. A 100 percent blues album was out of the question, it's been done over and over, time and time before. We were looking for a set of songs you could put on in Los Angeles and not take off till you get to Texas. It needed to rock, and then roll.
P: Ha! I haven't made a single in years. Aside from this one, my last CD was with my band 'Los Carnales', but I've played on a lot of other people's records, and still do.
What was your best ever gig?
C: Best gigs ever have been at Bar Chez Dan in South West France. It's an amazing place with amazing people a sort of spiritual rejuvenation!
H: Not long ago, I was blown away by a band called Black Joe Lewis. they really tore the place up. But best gig ever? I used to go and see Stevie Ray Vaughan a lot, and that's up there. The Blasters; so intense on stage, and The Fabulous Thunderbirds of course. Antones club in Austin saw everybody go through there, and obviously the best live acts at the time. I have to say that that each time I would go and see The Stones, I'd would be knocked off my feet again.
P: Too many, I can't pick just one! All the T-Bird Riverfests (our annual Austin festival) were phenomenal. Two sold out nights at Madison Square Gardens with Segar. Soviet Union sports stadium in front of 250,000 people. All the Roomful of Blues gigs with the blues and jazz legends. It's way too hard to pick just one.
What's the worst thing about being a musician?
C: Worst thing about being a musician is the constant struggle to get ahead…
H: Touring after so many years has loads of ups, but plenty of downs. 8 hour drives, flat tires, awful hotels, being away from the family, getting tired, sometimes angry, do the gig, drive for 8hours…. You get the idea.
P: Nothing…and everything. It's a hard but wonderful life!
What inspires you?
C: Music inspires me, my heroes, my friends, love, life, death, my past, my family… And of course the fans!
H: A job well done is when they dance on the tables. Rockin Blues, watching young crowds listening and enjoying our music is very rewarding.
P: All the old greats, of course. That would be a long list. Playing with good, real players. Being with good friends too.
If you won a billion pounds what would you do with it?
C: The lotto for $1 billion?! I would be sure to take all my friends that are struggling and help them get ahead. I would open a record label and a booking agency and be sure to help everybody I know and love….
H: A million, a billion; I've really never thought about it. It seems light years away! I would make sure that all American musicians would no longer have the worry of NO medical cover. We all have the worry of NO gig = NO money.
P: SPREAD THE LOVE! I would take care of everybody I love in this life!!
Out of your songs: which is your favourite and why?
C: Hard Way, Me and The Devil, One Slip, Blew My Head; can I really only pick one? I love the new material, but these are my favorites off of the new Texas Cannonball CD.
H: HARDWAY, there are great memories when I wrote this; Austin was rich in music. It really was then The Music Capital of The World. Dreaming is another song I like, it finishes the recording off nicely and we're pretty happy with it.
P: All of them!
What are you plans for the future?
C: My plans for the future? Just to continue to play until the day I die, see and play in as many places I can, and learn from my heroes and continue forward.
H: I have always wanted a Band. Texas Cannonballs are a band, and it's getting rare these days. It doesn't get better than a tight 4-piece band, with a great rhythm section, and young Chris on guitar and vocals is red hot. He keeps it fresh, and like I say, when we get you all dancing, the job is done!
P: To play until I die, like the old school guys did!
Finally, we're always looking to expand our musical horizons. Do you have any recommendations of bands or artists we should be looking out for?
C: As far as bands to listen to…… Howlin Wolf, The Fabulous Thunderbirds, The Sonics Rockpile, Muddy Waters, Elmore James, Ray Sharpe…. I could go on all day!
H: For up and coming musicians, keep the word 'band' in mind, mix it up, take a  look at the great bands that have been out there for 40 to 50 years, listen and watch. Prepare yourselves for an eventual killer onslaught from a band called The 44's, they understand how to Rock n' Roll.
P: Dan has great taste, I always love his playlists. Trust in Dan, haha!