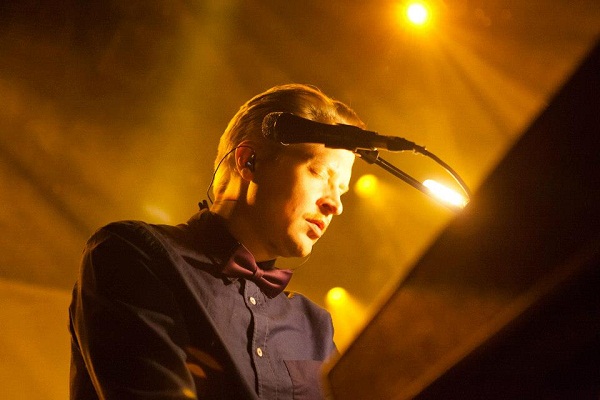 We were lucky enough to first see Husky Rescue in their native Finland last year, playing to a sophisticated crowd in a well-known Helsinki art spot. The audience were reclining on pillows while the band performed in-the-round on a raised, lit stage, surrounded by beautiful, hanging sculptures of leaves and feathers. Meanwhile, an acrobat dangled from a suspended hoop as the performance was streamed live to an online music site in the UK.
Fast forward to May 2013, Brighton. It's new music festival, The Great Escape and, although it's only mid-afternoon, most of the eager British crowd are three sheets to the wind. Those dreaded words, 'one in, one out', have been uttered at the door, and a queue snakes a hundred meters back from the entrance to the tiny Komedia Studio Bar.
The cramped, miniscule space may not be Husky's first choice of venue, but they still manage to deliver a spell-binding set, comprised largely of material from new album, The Long Lost Friend. After the brief show, we drag founder Marko Nyberg off for a quick drink to find out what he really thinks of these kinds of performances – but not before we've spilled beer all over him first…
Argh, I'm so sorry, I'm really clumsy!
[laughs good naturedly] So you saw us in Helsinki – how did you find this show? Because it's a very different format – I don't know if it's the right kind of showcase for us.
Well I saw you at London's Scala too and I think larger spaces suit the band more but, saying that, I really enjoyed it. Do you not feel so comfortable in this kind of set-up?
I don't know if I feel comfortable and it's really hard to squeeze everything into 15 minutes. It's interesting – we saw very happy faces in the front row! That was something I didn't expect.
There was a massive queue as well, which is really good for this time of day. How was Thursday's show?
I think it was good. This was…victory!
The last time we spoke you'd just finished the EP and were working on the new album. How do you feel your sound has changed and developed?
It came along actually quite quickly and I was very happy about that…there's this producer, he produced Shine 2009, he's been launching this kind of crazy way of putting songs together. You know when you're cooking, and you have this clock – a timer? So I challenged myself, I put this kind of timer on and it forces you to kind of be in the moment, and be really in that small world you're feeling.
So did you actually use a timer?
I actually used it! I had this feeling that I really wanted to nail this idea that I had in my head, and I managed to do it in fifteen minutes! Obviously it takes a lot of work when you're polishing, but I didn't want to over-polish anything in this album, and for me, it feels fresh.
How are you all gelling as a band now you've spent a bit more time together since the line-up changed?
Yeah, that's the difference to the previous work, cos' I was pretty much working alone in the studio before. Last summer, before we released the EP, we went to Berlin and went into the studio for four days and we decided to make four songs and we managed to do it. That's something I found super-inspiring – I really love Johanna [Kalén – vocalist] cos' she's very near to the source, or the fountain, creatively – spiritually. That's deep! But some kind of energy…
There's  a lot going on on the new album – lots of different sounds and layers. What inspired all of that?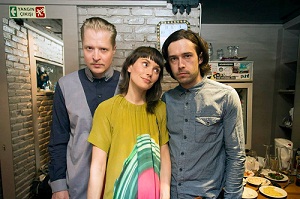 If I'm super-honest, in the beginning there was talk about being inspired by photos and films…but now it's very simple. It's more like life happening and certain moments, and being in the moment – very basic, and most loveable things. I have two very young daughters and the first one is two and a half years old and that's some sort of dream source. It's a lightness that comes through. That is actually the most inspiring thing -it's more like some sort of energy.
It must be very hard to explain exactly where inspiration comes from…
I'm very playful – I don't know if I can call myself playful, I actually hate people who are describing themselves – but if you feel you're surrounded by some sort of energy… I really have this need of writing music because I get very angry and frustrated and confused if I can't. When I was younger I was longing for something , for some sort of source for music writing, and I still long for some things. I feel it's a sort of escapism cos' it's transferring you somewhere else totally.
What is it like writing lyrics in English? Is it frustrating sometimes?
Hmm. For me, personally, the language is not so important. For Antony [Bentley, vocalist/multi-instrumentalist] I think it's easier because he's half-British. I started with English music when I was a kid so I kind of feel comfortable at least listening to this, and when the music is being born I feel comfortable when it's in English. I think it would be more unnatural in Finnish!
It seems like with the new album, you're breaking through to the British market a bit more – what's the plan for the band now?
I would really like to set up something similar to what we did in Finland, what you saw there. I don't think its controlling the environment but a possibility to set up something that challenges the space. Something more emotional. Something that gives you more space to build something in your imaginary world.
photo credit: Antti Ahtiluoto