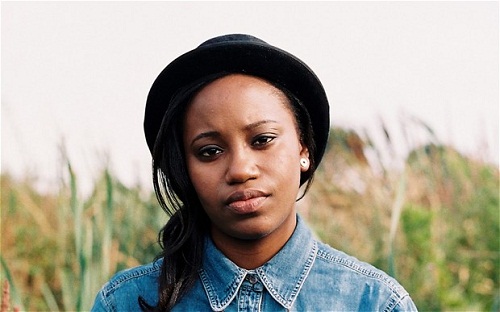 We fell in love with Denai Moore when we stumbled on the video for 'Gone'. Raw, honest, and with a few edges still intact, Moore's voice gets into your soul and stays there. We're clearly not the only ones who have been utterly charmed by Moore's gospel-tinged, soulful folk, and the talented 19 year old has already toured in support of Iron and Wine and Tom Odell. Get in now before this lady becomes a superstar…
Hello, please introduce yourself and your music to the uninitiated.
Hello, my name is Denai Moore. I'm a soulful folk singer/songwriter from London.
Tell us a bit about your latest release?
I've just released my debut EP called Saudade. 'Saudade' is a Portuguese word for a feeling of nostalgic longing for something or someone that has been lost. There are four songs on it that I recorded at The Urchin Studios in Hackney.
What was your best ever gig?
I don't really know.  I think maybe playing at the Borderline recently supporting Night Beds mainly because I've always wanted to play there having seen a few of my favourite people play there previously.
What's the worst thing about being a musician?
I don't think that exists. It's the most amazing thing to be a musician.
What inspires you?
Real life situations inspire me the most. I write a lot about my life, and the relationships I have with friends and family. I also get really inspired by an incredible music video or film – I remember watching Sigur Ros's video for 'Fjogur piano' last year for the first time and crying.
If you won a billion pounds what would you do with it?
I think I'd travel a lot. I think the internet can make you get obsessed about places you've never even been to! I've been itching to have an adventure around the south islands of New Zealand for a while now, so I'd probably start there. I'd also build a tea library for every flavour of tea that exists; my love for tea is beyond an addiction.
Which of your songs is your favourite and why?
My favourite song on my EP is 'Wolves'. It was my first co-write ever with my friend Tom and I think it's one of the best set of lyrics I've written.
What are you plans for the future?
Well, having just released my first EP I'm really excited to be playing a lot more live. Still can't believe I supported Iron and Wine at the end of May! There's going to be a lot of "Jeez Louise's" said by me this month. I'm also excited about getting back to record new stuff this year.
Finally, we're always looking to expand our musical horizons. Do you have any recommendations of bands or artists we should be looking out for?
Maybe Matt Corby – I believe his debut album is supposed to be out this year. He's got an incredible voice. I managed to see him live last year in the fall at the Hackney Round Chapel; it was one of the best shows I went to last year.