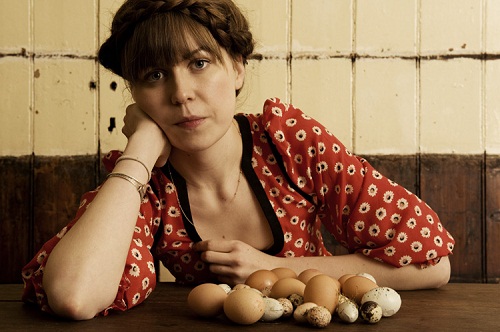 Here at FFS we've been super fans of Alessi's Ark – aka Alessi Laurent-Marke – since the very beginning. We should probably have a badge or something. We first caught wind of Alessi when she was a whip of a thing charming tiny pubs in 2008, and by 2010 she was supporting Laura Marling, we've been utterly charmed by this creative, unpredictable and likeable artist for the past five years. We watched her music develop and grow through the course of two full-length records, to be duly rewarded last month with third album, The Still Life – a culmination and reconciliation of the multiple styles explored in the previous two.
Thankfully, we manage to keep this slightly scary devotion in check when we meet Laurent-Marke – heck, let's call her Alessi – ahead of her show in the prestigious Purcell Rooms in the Queen Elizabeth Hall on London's Southbank. This is partly due to Alessi herself – elfin and slightly other-wordly, this girl from Hammersmith is nevertheless easy company – funny, warm, and, frankly, a bit of a chatterbox. Oh, and really tall. An interviewer's dream, she'll pose questions to herself and then answer them, at one point musing, "I like rock, I like blues – there's no style of music I haven't enjoyed actually. Is that true? Yeah I think so."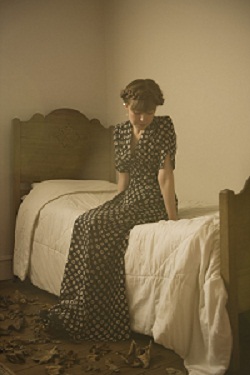 Endearingly humble, Alessi begins the interview joking that the venue's programmers must have confused her for Enya or someone, which leads us to ask exactly how she wangled such a peachy booking.  "I wanted to do something special for the new release," she explains, "so I just mentioned the venue to my booking agent. It just seems like this year is: Throw your dreams out and see what sticks! So it was like, let's reach for a pretty place – and then a date worked out.'
She pauses to debate whether to tell us about some of the ideas she thought would work especially well in this venue before deciding to make us wait, commanding, "Watch this space!" And it's worth the wait – when we enter the Purcell Rooms later that evening we're struck by a nice smell and later discover perfumed comic strips, poster and wrist band beneath our chairs. It's unique, touching and the perfect environment for the birth of The Still Life, a mature, complex record being cited as Alessi's 'coming-of-age album'. How does she feel about that description?
"Yeah I agree with that,' she nods. "I mean, the first record – I couldn't tell the difference between a capo and a compressor ! Mikey [Mogis, of Bright Eyes] very much held my hand through it and I very much let him steer the ship, and thank goodness he did.
"For the second album I split the session, I did half of it in Wales and the other half with a collective called Wilkommen Collective in Brighton, and even though we had a good time and I'm happy with the record – and it's down to me, not their skills or their vision – it lacks focus.'"
Alessi barely pauses for breath before racing on to describe how, with The Still Life, she wanted to aim for a more coherent sound, employing Georgia-based producer, Andy LeMaster:  "I left a message on his studio phone and just said 'I've got some songs, I don't really know if they're there as songs yet."
In her words, 'the stars aligned', and Alessi made the trip over to Athens where she spent three weeks working with a much smaller group than usual, finding out 'what can we do with not very much.'
"I think actually it's the first album that hints to listeners what I listen to," she tells us. "This is the closest record to what I want to be making, this is the sound and the setting for the lyrics. I felt like this is exactly what these words should be backed by.
"I wanted a record that would move people but that people could move to…I wanted to make a record that would comfort people and I've never really been able to hit the nail on the head."
The Still Life certainly deviates from her previous offerings, employing far more electronic and synthetic sounds alongside the staple acoustic arrangements. "I'm passionate about things that are electric as well," she explains. "There's something very exciting about human-meets-technology, that bridge, because there are parts that are completely synthetic on the record and I think that cuts me more than the acoustic guitar line."
She veers off on to a Baudrillardian tangent, debating the connection between hand and instrument that you achieve with acoustic instruments as opposed to electronic, before – and without missing a beat – saying, "I want to mention that I recorded two of the songs in Elephant and Castle, it's a very southern record – from Georgia to south London."
We're suddenly on to 'Young Colossus', an illustrated book and soundtrack by Orlando Weeks in which Alessi portrayed the female character. The connection is suddenly illuminated when she announces, "That was an exciting project, and I thought about how I could incorporate some of the ideas [into the album]." This type of circuitous thinking is an exact mirror of her music – tangential journeys and paths that relate in unexpected ways, finally coming together in The Still Life.
We're curious to know whether she hears all the sounds in her head when writing the songs, or whether they're added later, in the studio. "That depends on the song, which is probably an annoying answer!," she says apologetically. "I mean, 'Pinewoods' existed as just an a cappella for a while – that one, I just couldn't work it out. So that sort of fell into place later. 'The Rain' – well that existed as an instrumental for a while. I was thinking a lot about seasons. I wasn't feeling altogether there for a while and this was a guitar piece that I thought – there is something in there that is explaining how I feel more than I can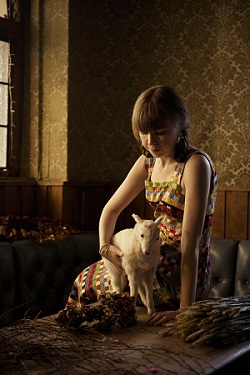 "It's about observing the inevitable changes of nature – human nature and the environment around us, and how there is comfort in things constantly passing. There's something tragic that nothing stays the same but also something incredible, because…" she pauses. "Things come full circle."
It's easy to forget that this philosophical, pragmatic woman is only 22 years old given the weighty nature, not to mention wisdom, of the material. By way of explanation she laughs sheepishly and says, "I think it's because I spend a lot of time on my own!"
The record certainly sounds like the project of much solitary contemplation in parts, particularly on the dark, paranoid, 'Afraid Of Everyone.' There are also plenty of upbeat moments too – glimpses of the sun after the rain that might have been created amongst friends. "There is a lot of dark on this record," Alessi admits, before adding, "but there's equal amounts of light too – I didn't want to make a miserable record. I wanted to also make one that's hopeful."