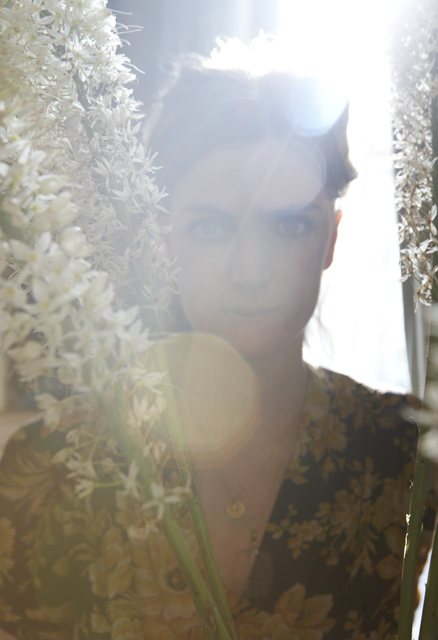 It's a strong time for no-frills, 'stripped-down' folk, with exquisite releases this year and last from Fionn Regan, Al Lewis and Keaton Henson. Joining their ranks is Megan Wyler with her recently released second single, 'The Fraying', a fragile, delicate duet with artist and producer, Adem Ilhan. If this is anything to go by, debut album Through The Noise – out in the summer – is sure to be a beauty.
Hello, please introduce yourself and your music to the uninitiated.
I'm originally from a ranch out in the sticks in Colorado, USA.   I lived in New York City for many years – starting out playing bass in a punk bank called Eyeball, progressing my way through different bands and modes of music before settling into my own stuff, working as a theatre actor, and eventually landing here in London, writing and recording tunes fit for a melancholy afternoon, a peaceful moment, doing the dishes…  I think there is a folk backbone to my songwriting, but I am drawn to more modern sounds and musical shapes than a purely folk transmission, so it's a blending of worlds and influences.
Tell us a bit about your latest release?
'The Fraying' is a duet with myself and Adem Ilhan.  Adem and I met through singing a duet together, a Johnny Cash number.  A few years later we became friends, and I asked him to produce my album.   Early on in the process it was discussed that we could maybe do another track together –  I was kicking around a few ideas, but one day when I arrived at Adem's studio he played me an idea he had been working on.  It was so stark and beautiful I immediately said that should be our duet.  He developed the track from there, we found our parts, and put it down.  I love the simplicity of the song on all levels.  It just is all right there on the surface, kind of naked.
What was your best ever gig?
My best ever gig was at a small little festival outside of Marseille in France.  At the last minute before we played, this incredible cellist from another band started playing along with us while we were warming up.  He was so amazing I asked him to come out with us, which he did – and he rocked it.  Never heard a single tune of mine before in his life and he was pitch perfect.  I can't even remember his name.  But it was one of those totally electric gigs that just clicked and was really free and fun and un-precious.
What's the worst thing about being a musician?
Getting bedbugs at Wilderness Festival
What inspires you?
World happenings, private micro-moments, and people, mostly. My little boy – the way he see's the world is so lateral and untainted, its amazing what comes out of his mouth.  Daily pearls of delight.  Also nature – having grown up in the mountains I find a huge amount of inspiration from being outside and away from civilization. I always get a lot of writing done when I'm off the beaten track.  My husband, who is also a musician, is a wonder.  Music seeps out of him and he is so generous with it.  I've learned a lot from him about how to truly collaborate, inspire and be inspired.
If you won a billion pounds what would you do with it?
Yikes that's a lot of cash.  Good question.  Still thinking about it.
Which of your songs is your favourite and why?
My favourite song on the album is probably 'The Fool'.  Its about the process of giving in to what you really want, even with the reservations and doubts you might have hanging around in your head.  I think its very hard sometimes to really follow your passion and your dreams, but if you can be fearless and give in to it, it is almost always a positive result.
What are you plans for the future?
Another album is in the works and I plan to tour a bit this summer on the tail of the album release.  I also have a great side project called Little Owl which is releasing an EP in a few months, probably with an album to follow in the fall.
Finally, we're always looking to expand our musical horizons. Do you have any recommendations of bands or artists we should be looking out for?
Definitely.  A violin, viola and drums trio called Geese.   They have the most wicked, totally unique and brave sound and songs. They're really amazing live, and are well worth going out of your way to see.  Also, Adem and Pete Raeburn are both on the cusp of finishing new solo records, both of which I've heard bits of and which are most certainly going to kick ass.