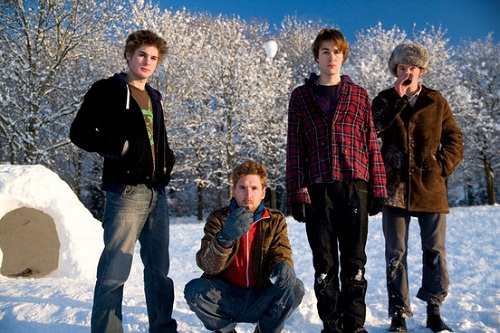 Oxford folk act Stornoway have warmed the hearts of folk lovers since the release of their debut album, Beachcomber's Windowsill, in 2010, their haunting and jaunty songs striking a chord with fans.
They release their second album, Tales from Terra Firma, on March 11th. We caught up with instrumentalist Jon Ouin (strings and keyboards) and found out about how they create their sound and what influenced the new record.
The new album is quite expansive and ambitious, both in its musical qualities and lyrical content. Why have you decided to change your sound?
In some ways I feel that it is still the same and that the most part of it is really quite similar, but at the same time we wanted to move away from the first record – not in a negative way. Some of the songs [on Beachcomber's] were written back as far as 2005 although the album didn't come out until 2010. Lyrically, it's natural that there would be a slight shift away- the lyrics perhaps cut a little bit deeper. There are references of rites of passage – death, birth, marriage and so on. Every human has to deal with these things. It's much more simple in some way.
You've been around for eight years and released one album. Given that you have such a loyal fan base, do you think you can continue and get bigger like, for instance, Snow Patrol did?
It's interesting, I was just listening to some older Snow Patrol records and I realised that I enjoy their older stuff a lot more…I feel that we still have something to say and I feel that the new album is full of music that I would personally listen to. I am quite happy that it goes to two places that you wouldn't expect us to go especially. But it's not a drastic change; not a Kid A moment!
You mentioned that the album contains lyrics about birth, death and marriage. What happened to members of the band that made them start singing about this stuff?
The lyrics are Brian's, but I can say with some confidence that he has changed a lot since he was 24 years-old and he's described that process in the new record.
Where or what is 'Terra Firma'?
It's a Latin phrase that means 'solid earth' and it's about the internal life of a human and the personal reflection and the big questions in life involved in that. I would say the record contains things that everyone can relate to.
People write comments on your YouTube channel like, "I was on the brink of suicide and then I heard Stornoway". What is it about music that helps people so much?
There is a kind of connection we can make without actually meeting them. People can relate a piece of music to their life and that music will be there forever. It's always very moving when people write to us – I think you'd have to have a heart of stone to not be!
Any unusual things/objects that you've used to create your sound. Carrots have been mentioned before!
We've used crisps on this record! Lots of axing and chopping into wood. Sawing. It's quite a DIY sound. A kanun [Turkish instrument] was used as well.
Where did you record the album? The track 'Farewell Appalachia' sounds like it was recorded in a farmhouse in the countryside…
'Farewell Appalachia' was recorded in a church actually, as was 'The Ones You Hurt The Most.' We also recorded in a barn and you can hear the wind rattling the doors of the barn. The rest of the album was recorded in a really small, windowless garage where we worked with our producer.
Tales from Terra Firma is out March 11th
words: Michael Somerville
Catch Stornoway on their 2013 tour
February
Newbury New Greenham Arts, 18th
Poole Mr Kyps, 19th
Pontadawe Arts Centre, 20th
Kingston New Slang/McCluskys, 21st
March
Liverpool Kazimier, 11th
Manchester Band On The Wall, 12th
Leeds Cockpit, 13th
Norwich Open, 15th
Sheffield Leadmill, 16th
Preston 53 Degrees, 17th
Portsmouth Wedgewood Rooms, 19th
Brighton Concorde, 20th
Bath Komedia, 21st
Leamington Spa Assembly, 23rd
Exeter Phoenix, 24th
Gloucester Guildhall, 25th
London HMV Forum, 26th