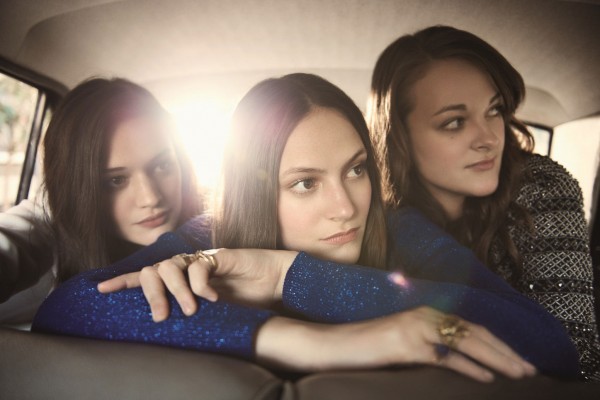 You and everyone you know should have been eagerly awaiting the release of The Staves' debut album Dead, Born, and Grown, not only because it features inspired harmonies and enough warmth to carry us through the winter months, but because they are delightful human beings. This talented band of siblings spoke to FFS via email and later in person. We might just be a little bit in love.
Have you always sung harmonies together and did anyone need more persuading than the others to really make a go of music as a job?
We've always sung together – since we were kids we'd be singing around the house and harmonies were something that came naturally to us. We all needed some persuasion, really, in making music our job. We didn't have the confidence for a long time to take something that we did in the privacy of our home with family and friends and put it out there for the public to hear. But luckily we did it and we're having the time of our lives.
You've mentioned before that your parents are musical. Are they professional musicians?
Mum and Dad aren't professional musicians. They both just have really nice voices and can play a bit of guitar and piano, too. Dad taught us guitar. They'd always be singing when we were kids and playing their records.
What contemporary music do you listen to and what do you think of the state of music today?
We all love Feist and Bon Iver, Fleet Foxes, Fionn Regan, Edward Sharp and The Magnetic Zeros…It's hard to comment on 'the state of music today' – which aspect? Music being made now is probably just as good or bad as it's ever been. The industry's changed and there are pros and cons to it. Listening to the radio can be very depressing these days but the Internet means that there's such opportunity to discover and share new bands that are cool and not mainstream. It's all still evolving as it always has…
You've played with some pretty amazing bands already, but what band or artist would be your ideal touring companions?
Well we're at the end of a tour with Bon Iver who've been amazing company on the road, and musically so great to be around. We had an amazing tour with our pals Ben Howard, Nathaniel Rateliff and Bear's Den before that – we travelled round the US in old VW  camper-vans. Gil Landry from Old Crow Medicine Show was driving one of the vans! It was a real adventure with no room for egos – just loads of great music and collaborations and fun. We'd love to re-live that one.
Can you describe the sound you went for with the album? Will fans of your EPs be surprised?
We feel that it's a continuation of the sounds on both EPs. We wanted them to be a natural transition into the record for the listener. There's a good mixture of acoustic tracks and tracks with other musicians playing on – it's important for us that the focus is on our voices and lyrics and that nothing else gets in the way of those things too much.
A couple of months later we were lucky enough to meet the girls at The Cock Tavern in London. In person, they were just as lovely as you might expect….
Why is Dead Born and Grown the title track?
Camilla: It was the first song that we wrote together.  It felt that the nature of the song was basic to us.  When we wrote it I didn't know how to play guitar, so I was only using the two bottom strings. It was just singing with lots of harmonies. It just felt like it was the root of us because it was the first and because of the sentiment of the song. Rather than calling the album An introduction to… it felt like that was the appropriate tone.
Some of the songs seem to directly refer to specific events, are you willing to share any background on any of your songs on this album?
All: [awkward pause] Ummm….
Ok, well there is a lot of great imagery in the album…
Jessica: Well, on 'The Motherlode' there is reference to a golden river. That song is one of the only songs on the album where we very consciously wrote it about someone else.  That one is about a character, though a lot of the other songs are quite introspective. For 'The Motherlode' there had just been the idea floating around about the gold rush of 1849 and for us the gold rush must have clicked somewhere – it's just about a character, that one in particular….no they're all about drugs!
Camilla: Yep, sex and drugs! It's a tricky one – on one hand, we could talk about what the song is about but on the other hand, sometimes I've found out what a song is about, and I've thought "Oh that's a shame".  It's quite nice to for people to take their own thing from it –
Jessica: – like 'Martha My Dear' by The Beatles…it's just about his dog isn't it…so ya, we don't want to break the spell.
You've been traveling a lot, how do you stay happy and healthy on the road?
Emily: We don't stay healthy. We do, however, stay happy because it's just loads of fun.
Jessica: It feels kind of like a school trip. The tour manager has the unfortunate role of teacher/dad, and has to manage all the unruly kids. I think you regress to being like a child in a way.  You have an itinerary printed out and given to you every day, so you have to relinquish control.
Emily: It's fun to let go, enjoy the ride, to sing together and to visit places that you'd never otherwise go….
Watching you sing reminds me a little of the three sirens in the Odyssey…do you feel as though you're lulling people into a false sense of security?
Camilla: Yes, very Witches of Eastwick, we've heard that –
Jessica: – bubble, bubble toil and trouble –
Camilla: I feel that it's a compliment if people feel like they are lured in.
Jessica: But we don't want to do anything bad to them. There's no undertone, it's just music!
words: Paul Kellner and Lynn Roberts
The Staves are currently on tour with Bon Iver and will headline their own UK tour in November and December:
THE STAVES – headline tour
18th November – Bristol, Thekla
19th November – London, Village Underground
20th November – Brighton, Komedia
21st November – Leeds, The Wardrobe
23rd November – Edinburgh, Pleasance Theatre
24th November – Belfast, Limelight
25th November – Dublin, Whelans
27th November – Manchester, Ruby Lounge
28th November – Birmingham, Hare & Hounds
29th November – Nottingham, Bodega