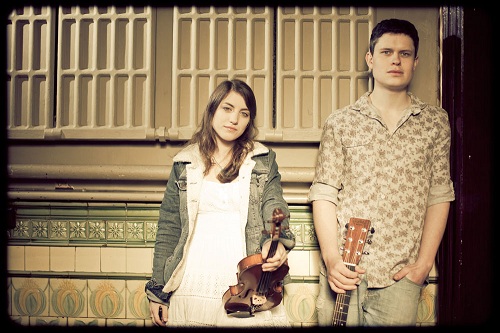 Currently riding the resurgence of traditional-sounding folk are Katriona Gilmore and Jamie Roberts, who met as music students and are now three albums into a very promising career. If you like 'proper' folk – and God knows we do – in the vein of Sam Lee, Seth Lakeman and Bellowhead, you're going to fall in love with this pair.
How did you both meet and start playing together?
Jamie: We met whilst both studying music production at Leeds College Of Music and soon discovered we had similar music tastes. Part of the course was songwriting and we'd play on each others demos of songs. So we had some basic arrangements put together and thought we may as well start performing some.
You're very rooted in traditional or old-school folk – who are your influences or musical heroes?
Katriona: I first got into folk when I was around 12, and my biggest influences were British fiddlers like Joe Broughton (The Albion Band, now Urban Folk Quartet) and Nancy Kerr. A couple of years later I started listening to a lot of American folk and bluegrass – Nickel Creek, Alison Krauss & Union Station – and that has really influenced the way I play and write.
J: I was brought up in a very musical family. Both my parents are musicians and fans of folk music, and with my big sister, Kathryn Roberts, being a professional folk singer I was very much surrounded by it from an early age. I think it was getting an acoustic guitar at 15 that started to bring me round to more acoustic-based stuff. I never really had musical heroes as such but more songwriters or bands that I really admire, most notably Richard Shindell, whose songwriting has had a big influence on me.
We love the story-telling element to your music, such as on 'Doctor James', the story of a 19th century female doctor who lived as a man. Where do you find these tales?
K: I heard that story from my cousin who had done some work in Kensal Green Cemetery where Doctor James Barry is buried. It's such an incredible story – and true! – and I wanted to use it as soon as I heard it. 'Letters' came from my family background – it's about my great-grandmother's experiences as a Danish newsreader on the World Service during WWII.
J: 'The Stealing Arm' story came from a 19th century broadside ballad called 'The Thief's Arm' and 'Scarecrow' was inspired by simply seeing a scarecrow in a field with a crow sitting on its shoulder.  'Louis Was A Boxer' is based on a regular customer at the Subway sandwich shop I used to work in part-time whilst at University.
You're already on your third album, The Innocent Left – how would you say your material has developed since the first?
K: I think our writing has become more consistent – I certainly write much less now than I did before we recorded the first album, but I spend more time getting the songs right, rewriting and perfecting them, rather than finishing them and then discarding them like I used to.
J: Also, having worked together for 6 years now, we've developed a really good understanding of arrangement for our instrumentation and often instinctively know the sort of thing to play to best compliment what the other is doing.  This has really helped us cement our signature sound.
Which is your favourite song on The Innocent Left and why?
J: I tend to go through phases… When we first got the mixes back, my favourite was 'Scarecrow' because it's a real hard-hitting powerhouse of a track that grabs your attention from the outset, but I think my current favourite is Katriona's  'Silver Screen'.  We've only fairly recently started doing this one live and I'm really enjoying the incredibly delicate, pretty arrangement
K: There were two songs which worried me when we went into the studio: 'False Knight', the only traditional song on the album, had gone through three separate arrangements. The finished version turned out to be one of my favourites – very atmospheric. 'Shuffle & Deal', although it seemed radically different to the other material at first, also turned out great – it's a very slow-burning track. We were very fortunate to have Larkin Poe guest on it, and that's a big thrill – not many people get the chance to have their favourite band play on their album!
Was the making of the album a smooth process?
J: Everything went to plan, but I think the word 'smooth' implies an easy process, whereas in reality a lot of hard work had to go in. For this album we worked with a producer, Julian Simmons, for the first time and recorded in his studio in London.  We had fifteen days in the studio for recording and had to plan the time very carefully to make sure we got everything done to the standard we wanted.  Julian was brilliant and has had a massive impact on the album.
Do you ever argue when you're working together?
K: We have the occasional disagreement but nothing major, and nothing we couldn't eventually agree on with a bit of compromise. It was very different working with Julian in the studio – we had a third opinion on every decision, which is something we hadn't experienced before but it made it quicker to come to an agreement at times. Quite often this meant we ended up choosing an option which neither Jamie or I would have thought of by ourselves!
How do you see yourselves continuing to develop?
K: Having just made an album which has a full-band sound, we're considering the possibility of playing as a three-piece with a percussionist next year – beyond that, it's hard to say what might happen!
It seems that traditional folk is undergoing something of a revival with the growing popularity of artists like Sam Lee, Seth Lakeman, Sean Lakeman and Kathryn Roberts and you of course. Why do you think this is?
J: I think a lot of it is down to the rise in popularity of folk-influenced pop music in recent years from artists such as Mumford & Sons and Laura Marling. Whilst I wouldn't say this sort of folk is particularly influenced by the tradition, it is still often categorized as folk, which brings a whole new audience to the genre. It's this and the presence of the sort of acts mentioned above that I think helps to bridge the gap between the pop world and the more traditional folk world.