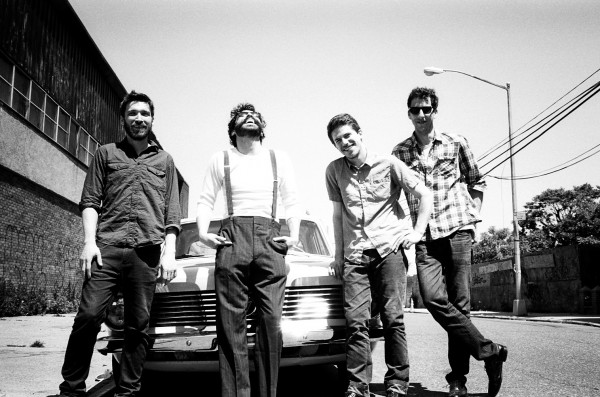 From the relentless production line of bands out of Brooklyn come Leland Sundries, purveyors of a twisted Americana that has already earned them comparisons with everyone from Woody Guthrie to Lou Reed to Leonard Cohen. The Foundry EP somehow strings together the dots that connect those three and more, flipping between the laid-back and the raucous and all carried along by Nick Loss-Eaton's distinctive baritone.
Hello, please introduce yourself to yourself and your music to the uninitiated.
I am Nick from Leland Sundries. We are an indie-folk band from Greenpoint, Brooklyn, which also does some tongue-in-cheek rockabilly and garage rock tunes. We've released two EPs and a 7″ to date.
How did you start playing music?
I took piano lessons as a kid, got inspired to play harmonica by listening to the The Freewheelin' Bob Dylan during high school, and took up guitar listening to Bob, Keith Richards, and Chuck Berry. I've always been a writer, writing poetry, plays, anything I could as long as I can remember, and folks like Tom Waits, James McMurtry, M. Ward, Jay Farrar, Todd Snider, and The Low Anthem inspired me to channel that into writing songs.
Tell us about your latest EP.
We just finished the music video for "VFW Hall," off our new release 'The Foundry EP.' I had this dark, weird chord change from playing on the banjo and then started to write the lyrics to fit it. Later, when the piece was done, I figured that it must be about a veteran and his haunted memories. For the music video, we re-cut footage from a war movie I made when my brother and I were kids from action figures. We wanted to contrast a child's sanitized and glamorous idea of war with a sense of the trauma that a veteran might actually feel. Scott Variano re-edited the footage and it became a whole lot weirder.
What was your best ever gig?
The next one!! There are several that stick out: opening for Taylor Hollingsworth in Birmingham, AL at a rock n' roll dive bar; our first EP release show at Union Hall in NYC; playing in Seattle, WA most recently with some other bands that I adored; opening for Todd Snider on three upstate NY shows; and a show in VT where a girl started hoola hooping.
What's the worst thing about being a musician?
I love touring but the exhaustion of it is hard to bear at times.
What inspires you?
So much! We created a Pinterest board of inspirations: http://pinterest.com/lelandsundries/inspiration/ . In addition to musicians I mentioned earlier, writers like Sam Shepard and Richard Russo, photographers like William Eggleston; and visions of industrial decay and grit across the country in towns like Wallace, ID and Silver Plume, CO. Anything rusting. Traditional folk, blues, and old time music.
If you won a billion pounds what would you do with it?
Give half to charity and use the rest to perpetually tour.
Out of your songs: which is your favourite and why?
"VFW Hall" 'cause we like that new video smell. Also, "Roller Derby Queen," a garage rock 7″ about crushing on a badass derby girl.
What are you plans for the future? Do you still always to be playing music?
Well, we're starting to write new stuff and learn some oddball covers and will be playing some northeast shows. We just confirmed opening slots for Chuck Prophet and Eef Barzelay!
Finally, we're always looking to expand our musical horizons. Do you have any recommen
dations of bands or artists we should be looking out for?
Yes! Our friends and fellow indie-folkers Andy Friedman, Sebastians of Bremen, Matt Frye, Sold Only As Curio, The Gun Gallery.