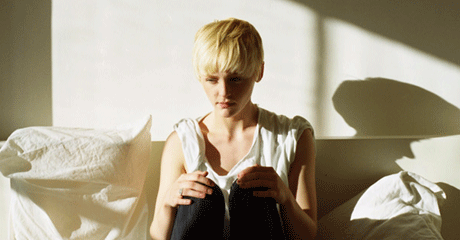 FFS caught up with Laura Marling for a quick chat ahead of the Portsmouth leg of her Night Terror tour to talk about her US sojourn and being lied about by the papers.
For Folk's Sake: You came back from the US tour with Johnny Flynn and the Sussex Wit and Mumford and Sons not too long ago, how did that go?
Laura Marling: It was absolutely amazing. I was the only girl on the tour, and we were all sharing a sleeper bus. It wasn't too macho, though, they're just a bunch of wet blankets really!
When we spoke to Mumford and Sons ahead of the tour, they were talking about everyone getting tattoos, did that happen in the end?
Every day one by one they all dropped out apart from me and Marcus. I got my family crest tattooed on my arm, which is a little lighthouse.
Loads of the folk crowd seem to be doing pretty well and going off on major tours,  does that mean that there's less of a feeling of community than there used to be?
No not at all, it's been great, and all the time people are picking up and it always seems to be people we've known for years. It's really nice you know we're very lucky to have a good choice of old friends to travel with. I mean, America was so easy, I imagine it could have been hard if there was just four or five of us but there were fifteen of us and so many different characters, it was exciting.
What do you think it is about your group of friends that means you're all successful?
I think we're all helped by each other, we've got a lot of strength it's quite hard to describe, there's a lot of love and in that there's a lot of support, and I think we're really lucky to have that. Yeah and I think it's just such a nice and kind environment, whoever you are you feel part of something and to feel part of something is incredible.
Ted and Marcus from Mumford and Sons mentioned that they're leaving your backing band to concentrate on Mumford and Sons, that must be a big change.
It's very sad and it's very weird, but you know that's life and they're doing incredibly well so it's not too sad for them! I've got two guys from Brighton replacing them. Graham from the Bobbie McGees is playing bass and Dave is on drums, they're really great and they've fitted in straight away.
Is it a different vibe on the UK tour than the US since this one is just you, your band and Jay Jay Pistolet?
Well we've got our tour manager and sound engineer with us and actually Max Knight, who takes photos for all of us, comes on tour with me and films it and takes photos and writes blogs for my site and stuff, so he's nice to have around.
How have the first few nights gone?
Good, it's odd 'cause Marcus and Ted aren't here any more. It's kind of different, people with different personalities I didn't realise how much difference it would make, but it's still good, it's still fun and I think the vibe's still there, which I was slightly worried about so that's good. I'm playing standing up venues, so that changes things a bit.
How's the new material being received? Can you gauge it when you're on stage?
I can't, no, there's actually quite a lot of it in this set. I'm hoping it's not going to put people off. It can be hard to listen to new songs that you've not heard before but I'm going for it anyway!
Are they songs from the Night Terror EP, or is it newer stuff than that?
Some from that and also newer ones too.
So Laura, it's recently been reported that you're going to be collaborating with Wiley, the rapper, is that true?
No! I have no idea where that's come from. Somebody forwarded me the link to a story about it the other day. I haven't heard anything about this!
He said in an interview that he really liked your voice, but also that he'd been talking to you on the phone about a collaboration…
Really? I think he's telling a little lie there!
Is there a new album on the way?
Yeah, I'm demoing it at the moment and finishing off writing, I need a few more songs basically. And then hopefully I'll get into a studio, hopefully with Mumford and Sons, in a couple of weeks.
So they're going to be the backing band?
Well, I haven't actually asked them yet…
Is it more difficult to write this time around when you have less time?
I have quite a lot of time, you know the tour is only two weeks and I had three weeks off before that. Being on tour makes you tired, that's the only thing. I think it's going to be quite different to the last one, but I hope not too different.
Laura Marling is currently on a UK tour. Click here for more details. 
Interview: Lynn Roberts