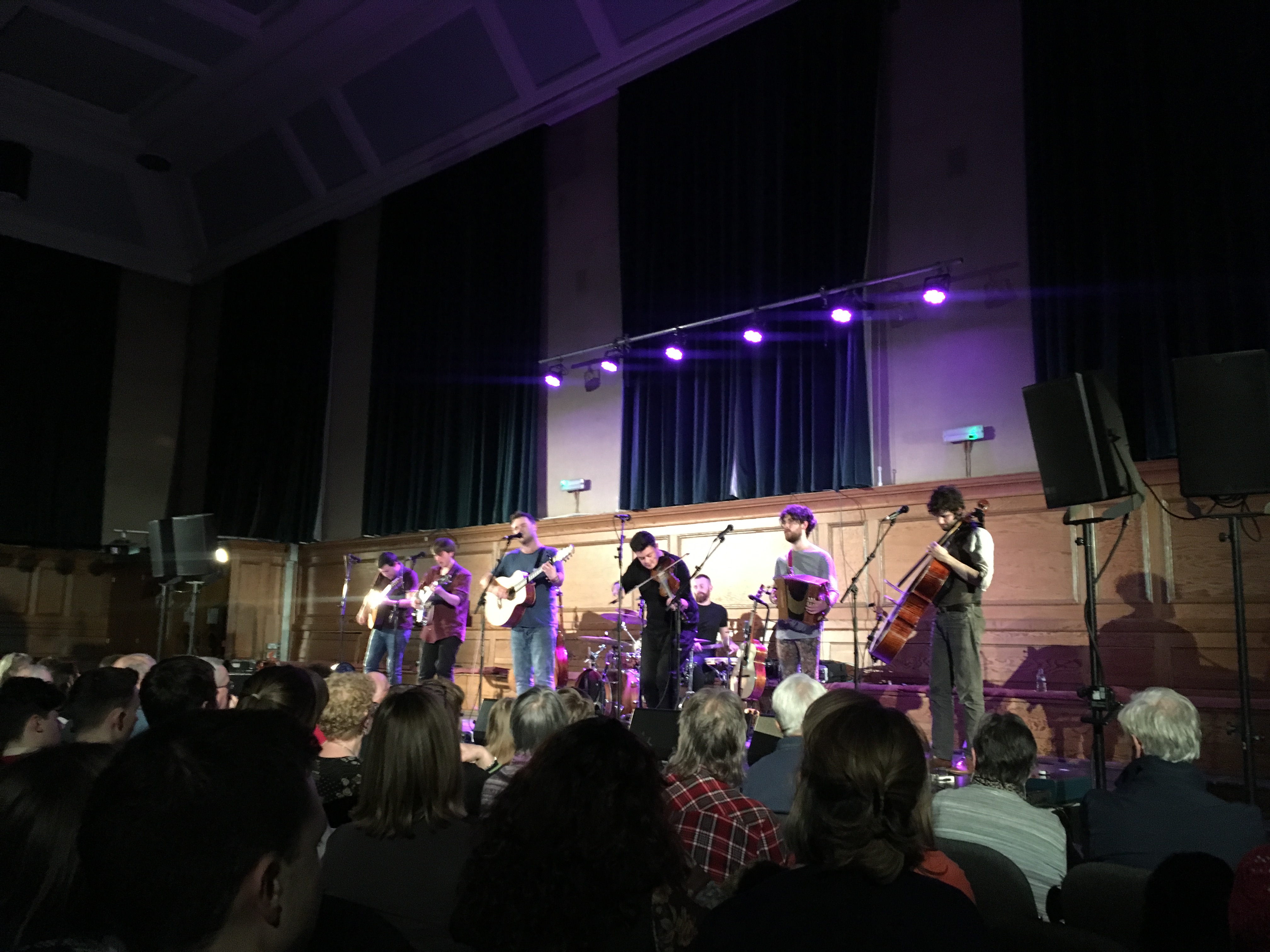 When you step into a venue just as an acapella duet of Joni Mitchell's 'A Case Of You' is starting
up you know you're in for a special kind of Wednesday night. Sweeping over the audience like a
fragile lullaby, it was the perfect set up to the final song from support act The Jellyman's Daughter,
an endearing ode to their hometown of Edinburgh.
Sam Kelly and the (many) Lost Boys just about manage to fit on stage beneath the velvet-curtained
windows of the iconic Cecil Sharp House, home to the English Folk Dance and Song Society. Without
announcement, they launch into Pretty Peggy's opening track, 'Greenland Whale', which
features the kind of rousing chorus that makes you wish this wasn't such a civilised and seated show.
Three dates into their tour, which Kelly confesses to organising himself, it's apparently doing them
no harm that they've been without beds for at least one night, as they deftly and with almost too
much charm play through an album of contemporary takes on traditional folk songs, as well as
original songs.
'Angeline The Baker', an Appalachian plantation song about two slaves who fall in love but are torn
apart by their spiteful owner, features not only this reviewer's name but also a fun singalong chorus
about baking and lifelong regret – two topics often neglected to be paired up in chart hits. Kelly
reveals that his love of music began with his Irish grandfather, who taught him 'If I Were A Blackbird',
a song he re-learnt years later at a workshop at Cambridge Folk Festival, to which he'd won a pair of
tickets, and was astonished to find happy people talking to each other, and himself not covered in
urine.
A toe-tapping (seriously why are we still seated this is so incongruous!) performance of 'The Close
Shave' is pure folk joy, and 'The Keeper' reaches "level 2 singalong" with some audience call and
response. "You're in Cecil Sharp House, home of folk music, I'm sure you can do it", Kelly
encourages us, before inviting the audience to hang out with them afterwards and show the band
pictures of our dogs. After a totally unexpected and surprising encore of 'Jolly Waggoners' and
'Banish Misfortune', Kelly wishes us "a lovely rest of your evening and life if I don't see you again",
but after the outrageous fun of this evening, I think not seeing Sam Kelly and the Lost Boys play live
again is unlikely.
Words & Images: Angeline Liles