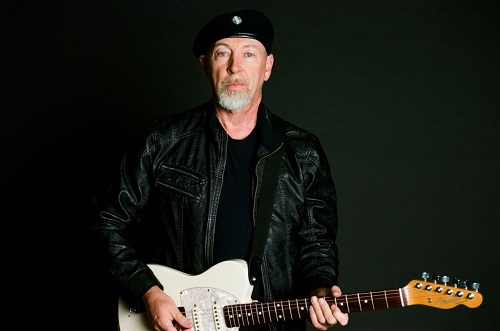 In a recent poll on BBC Radio 2, as Richard Thompson proudly informs the audience on stage in hall one of the beautiful Sage in Gateshead, 'Who Knows Where The Time Goes' by Fairport Convention was voted the most influential folk record of the last 50 years. Thompson is clearly proud as punch of this fact, beaming at the audience at being a vital piece of the Sandy Denny-written classic, before ever-so-succinctly informing the crowd that his recent Acoustic Classics LP managed to breach the UK top 20 albums chart – this is something he's also humbly overawed with given his last brush with the charts was roughly 50 years ago too. But this is a clear and assertive endorsement of a legacy and enduring appeal that is as widely apparent as it is understated.
This influence is never more noticeable than within the eclectic folk style of tonight's support act, Josienne Clarke & Ben Walker, a folk duo of enthralling individual skill and natural ability that manage to combine elements of folk, jazz and operatic pop into a short but ultimately beguiling set. A stunning opening version of the traditional 'Reynardine' – sung in the almost indistinct style of Sandy Denny by Clarke – followed by a staggeringly good 'The Birds' puts an immediate and unshakeable hex on the crowd, warmed by the pitch-perfect vocal of Clarke and delicate guitar work from Walker. Complemented with Clarke's amiable and sardonic between-song wit, the duo are utterly compelling to watch and manage to create an atmosphere all of their own. Clarke likes to joke on-stage that she excels in misery, and that their music is perfect with which to wallow in your own with a bottle of red wine. If this is what misery sounds like then pass the corkscrew – mesmeric and exquisite melancholy.
Bedecked in his almost militant-looking attire, beret permanently glued to his forehead, Richard Thompson strolls out of the darkness to enthusiastic applause from a packed hall one of the Sage. A warm smile and polite wave to the crowd is offered before he launches into a dark and moody 'Gethsemane', immediately displaying the technical brilliance and storytelling warmth that would set the tone for the rest of the night. Such a marriage of skill and heart has been the foundation of an artist rightly regarded as one of the most influential folk musicians this country has seen, to say nothing of his status as a complete virtuoso of a six-string.
Thompson has the enviable ability to make his guitar sound like band, orchestra and conductor such is his dexterity with the instrument; a simple flick of the wrist or dance of his fingers up and down the fretboard is enough to completely transform the direction or arrangement of a song. It's a remarkable gift to have, and his finger-plucking flourishes embellish a treasure-trove of Thompson classics. Set highlights include his heartbreaking lament to lost youth, 'They Tore The Hippodrome Down', and 'The Ghost Of You Walks', a forlorn look at a past love and its lingering hangover. Indeed, Thompson's subtle yet altogether vivid gift as a wizened troubadour manages to paradoxically transport you to another place while simultaneously grounding you to his immediacy and unique and hypnotic storytelling ability.
Full of self-effacing wit and humble warmth, Thompson's humour and self-deprecation comes across as affable and genuine, and the mutual appreciation of artist and audience is another reason that Thompson has become such an enduring performer. Two encores – one of which includes a spellbinding version of 'Beeswing' which stole the entire show from everything preceding it – and calls for more would suggest his inconspicuous popularity will continue to flourish in the most satisfying of ways.
Words: Chris Peet