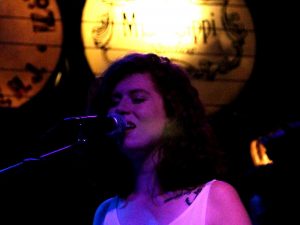 Singer-songwriter Holly Ann made good use of the many musicians that preceded her at Mississippi Studios in Portland, Oregon on Monday night. Along with Evan Way & the Only Light Band, Ann performed with a band of eight for the first time during the Deeper Well Records showcase (also included Cory Dauber), which resulted in a richer and layered folk sound as heard on her sophomore album Light & Bloom.
For those who don't know, Deeper Well is Christian music record label that provides an alternative to Contemporary Christian music (CCM). At first listen, Ann's sound resembles more like the sound of her musical influences such as Emmy Lou Harris, Kate Bush and Sharon Van Etten. At second listen, the imagery and lyricism are similarly poetic and spiritual, but Ann's have deeper religious meanings.
The most striking tone across the entire performance was humility—as a follower asking questions and following better paths—which featured prominently on "Carry You" and "Rivers End." The biggest turnoff of CCM in general is the repeated mention of Jesus being the world's savior (becomes one-note after a short while), but Ann managed more subtle celebration of her faith without descending into cliché and tired handwringing during the headlining set.
Ann was also able to craft varied melodies by incorporating additional instrumentals that produced more lift and accentuated emotional peaks. "Healer" had more soul; "Red" had more attitude and direction; "Better than Gold" had more spirit. It was an enjoyable show punctuated by a person whose positivity shined throughout her music.
[soundcloud url="https://api.soundcloud.com/tracks/235452645″ params="auto_play=false&hide_related=false&show_comments=true&show_user=true&show_reposts=false&visual=true" width="100%" height="300″ iframe="true"/]
Words by: Tan Man