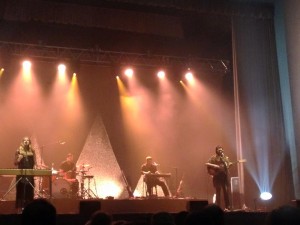 It was whilst packing away tents at Glastonbury 2013 that I first heard the beautiful duel melodies of the Soderburg sisters, aka First Aid Kit, soaring over the hallowed fields of Pilton. I'd planned to catch their set in full but had to make do with the Swedish pair forming the backdrop to lugging bags back to the car instead. So when a new tour was announced towards the end of last year I was straight in there – I couldn't let the chance go begging again…
Johanna and Klara take to the stage to a warm appreciation that continues all night from an audience that clearly contained plenty of fans that had turned out a couple of years ago when the band played the city's music hotbed Moles.
Boldly kicking off with 'Lion's Roar' and 'Stay Gold,' the ladies – backed up with a hugely skilled drums and pedal steel guitar duo – show that there will be no wasted moment in a set that went on to be a showcase of a live performance and as close to perfection as you can get. First Aid Kit are one of those bands that can make you feel like you know every one of their songs intimately with 'King of the World' and 'Waitress Song' in particular standing out as album tracks that break completely free and shine in the live setting.
Mid-way through the set, 'Ghost Town' is delivered away from the mics, the instruments and the rest of the band, highlighting even more the splendour of the vocal talents that these girls possess.
They continue at a pace with the time going far too quickly with every song highlighting something you didn't know before about the vocal range and wonderfully synchronised timings of the sisters. 'My Silver Lining,' the opener to 2014 record Stay Gold goes down a storm before a change of pace sees them cover Jack White's 'Love Interruption' to masterful effect.
Through it all, it's clear that performing is what First Aid Kit were born for and the sisterly bond is evident for the entire evening as they charm the crowd between songs. As the set comes to a close with 'To A Poet,' 'Master Pretender' and the ever popular 'Wolf' I get the feeling that it's all too soon but a barn storming encore double of The Kink's 'Waterloo Sunset' and one of their own breakthrough hits 'Emmylou' wrap things up in a perfect finale.
This was a sensational performance from a band that can only get better and better. The way they place their stamp on a multitude of genres makes them stand out from an ever growing pack. First Aid Kit are one of those bands that you feel would fit in anywhere from a front room to a beach side to a festival or concert hall and that will take them a long way.
Catch them if you can!
Set List
Lion's Roar
Stay Gold
King of the World
This Old Routine
Waitress Song
Shattered and Hollow
Ghost Town
My Silver Lining
Love Interruption
Heaven Knows
To A Poet
Master Pretender
Wolf
Encore
Waterloo Sunset
Emmylou
First Aid Kit continue their UK tour this month at the following venues:
23 Jan: Corn Exchange, Cambridge
24 Jan: Dome, Brighton
25 Jan: UEA, Norwich
27 Jan: Hammersmith Apollo, London