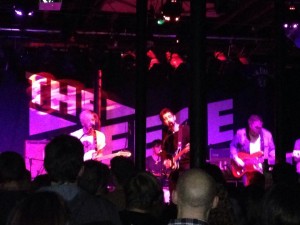 Eliza and the Bear are one of those bands that can't help but make you grin from ear to ear. Played on record their songs uplift and energise with gusto and jubilation. Like we found out at the intimate Fleece venue tucked away in a side street in Bristol on Friday night, though, the London based outfit take things to a whole new level on the live stage…
Bursting onto the stage with 'Friends' they immediately create a feeling that we're all together as one, a commune of music lovers celebrating the joy of making it together. The band are ready to party and to make up for lost time after this particular gig needed to be rearranged from earlier in the month.
Whisked along by passionate playing of instruments that includes a trumpet that holds a lot of the songs together, the entire back catalogue of stirring tracks is played out to an audience that sings along in unison. 'The Southern Wild' is given a rockier and fast paced live makeover whilst still keeping the aura of what makes the song so good and recent EP title track 'Light It Up' connects fantastically in a setting like this.
There's time for new material to be shared as well with a sneak peak at a couple of tracks from the bands' first full album that's planned for 2015. 'Cruel' gives the band a whole new flavour with its stripped down acoustic feel highlighting even more the breath-taking vocal talents of singer James Kellegher. Kellegher gives it everything he has to bring across a heartfelt song that will give the new record a bit of meat.
Following that brief but wonderful interlude to the high energy stuff, the full band returns and we're treated to a rousing version of 'It Gets Cold' which is a natural fit for a closing track. One last big effort absolutely brings the house down.
It all lasts around fifty minutes in total and leaves everyone screaming for more. Fortunately, it looks like we'll be getting just that in the New Year and it can't come soon enough based on this outing.
Eliza and the Bear are a band that are as professional as they come but what makes them even more special is their humbleness and connection to the audience that have obviously been following them from the start of their careers based on the number of sing-alongs we enjoy here. There's a togetherness about them that's going to take them an awfully long way and I for one can't wait to travel those roads with them.