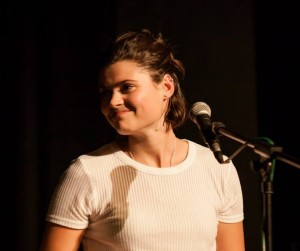 It's been quite the year for young folk musician Hattie Briggs. After releasing debut EP My Shepherd's Hut in November 2013 she was nominated for the prestigious BBC Radio Two Young Folk Award alongside Gentlemen of Few, Granny's Attic and eventual winners The Mischa Macpherson Trio. Going by Friday night's performance at the intimate Chapel Arts Centre in Bath you can see every justification for the nomination as she gave a spellbinding performance to an appreciative audience…
I arrive at the venue in good time for the support which comes from the engaging and charismatic George Montague whose on-stage presence lights up the room. Utilising guitar, ukulele and keys as well as beat box samples his positivity shines through and translates into powerful and unique songs. A ukulele version of 'The Smoke' from the album Have You Met George demonstrates Montague's versatility and vocal range before a duet with Briggs sets us up for what is to come.
Montague's song 'Silent Hand' was one that he always saw as a duet and after meeting Briggs at the Wychwood Festival and subsequently being invited to act as support for this gig it was always going to be fitting for this song to be the collaboration that ushers in Briggs' set.
Briggs begins with 'A Beautiful Mind,' a fitting tribute to folk singer Pete Seeger who passed away in January with a gentle finger picking of the guitar perfectly supplementing the delicate vocals that the singer produces time and again over the evening.
New single 'Old Eyes' – a song written about her dog ("but can be about people as well") is delivered with enough emotion to cut deep into the heart strings whilst a cover of the Civil Wars song 'Sacred Heart' works impeccably with the traditional folk styling of her vocals.
A new album is on the way next year and there were a few sneak peeks at tracks that will feature on it. There's sweet nostalgia in 'God Speed' – a song inspired by her brother's move to America before a cover of 'Fields of Gold' (previously covered by one of Brigg's biggest inspirations, Eva Cassidy) is magnificently done.
Briggs continues to produce consecutive moments of beauty with 'Tilly's Song' giving us an insight into a loyal friend that she wrote the song for and 'Happy in your Arms' adding more love song sentiments. Her more powerful notes in 'Still With Hope I See' highlight a delightful and emotive range before 'All About Love' ("One of my more soppy songs"), 'Share Your Heart' and 'Pull Me Down' close out a mesmerising set.
It's an evening full of portraits of English summers, friends and lovers old and new and haunting memories that weave together from this richly talented musician. It was all over far too soon and when a gig grabs you like that you know you've been a part of something great.
Hattie Briggs has had twelve months to truly remember but if she keeps pulling off evenings like this one then she'll have a whole lot more to come.