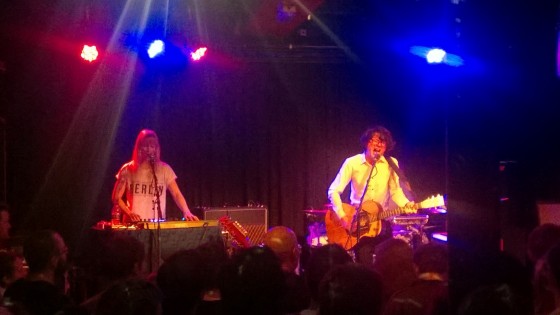 Forgive me please a first-person review, but I feel quite personally about Paul Thomas Saunders. The first gig I ever reviewed, four or five years ago now, was a launch show for his first EP Four Songs In Twilight which took place in somebody's basement in Leeds. I can't find the review now – it was for, whisper it quietly, another website – but I do remember being blown away by Saunders' voice and confidently tipping him for big things.
These things are relative, of course, but watching him launch his stunning debut album at London's Lexington, lapping up the attention of an adoring crowd and, importantly, clearly enjoying every second, I couldn't help but feeling an entirely undeserved sense of pride.
Plenty has changed since then, though some of the songs – including one of the night's highlights 'Waking & Evening Prayers For Rosemary-Mai' – cross over from Twilight to to Beautiful Desolation. Most crucially, the musical direction has shifted with an emphasis on synths and 80s-style production. But what remains most strikingly the same are that stop-you-in-your-tracks voice and some of the most finely crafted songs going.
London! I can't even begin to describe my gratitude… You blew us away. Our first sold out show, but worth the wait. We'll remember you. X

— Paul Thomas Saunders (@PaulTSaunders) April 17, 2014
It's an epic old album is Beautiful Desolation, one that seems to demand a big band to render live. In fact it turns out only three people are needed to belt out tracks like album opener 'Kawai Celeste' and 'In High Heels Burn It Down' and make them sound bigger and better than ever.
'Starless State Of The Moonless Barrow' gives Saunders a chance to show off his voice to its fullest, dazzling effect, and as it occurs to me that this is the sort of huge sound that could work in arenas or even on a festival main stage – 'Good Women' on the Pyramid Stage at Glastonbury, anyone? – I make a mental note to tip him for big things. I've done it before and I'm more convinced than ever.