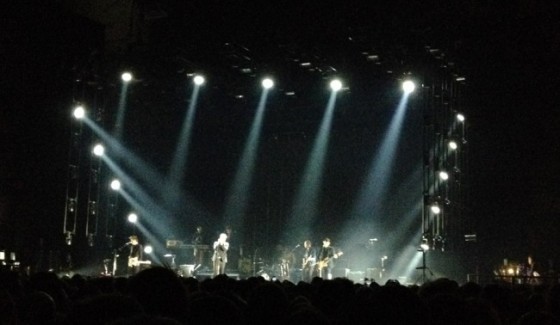 Some bands create a niche for themselves that's so particular they end up being terribly boring. The furrow The National have ended up in is certainly distinctive, but every earnest, stirring indie rock ballad that comes from it is unmistakably them, unmistakably excellent and never boring for a moment. We're clearly not the only ones who think that, as the first of their two nights at Alexandra Palace was packed with fans, mostly wearing beards and checked shirts, who knew every one of Matt Berninger's emotionally loaded, often abstract lyrics, and sang them all with the gusto of a congregation on 'Songs of Praise'.
These guys really know what they're doing. Berninger's exceptional voice melted its way through the likes of the glorious 'Bloodbuzz Ohio' and spewed hatred through the shouts of 'Mr. November', while the band turn out to be far more accomplished than we could tell from the recordings. Some fairly brash video sequences on the huge screen behind them occasionally distracted us just a bit from the heart on their sleeve, though the effects lifted 'Humiliation' to something we could get thoroughly wrapped up in, and a bright, brisk sequence of vintage photographs interspersed with live shots of Berninger climbing through the crowd definitely brought an extra thrill to their encore.
The set was two hours long, and every song that filled it was a gem. But beyond their musical talents, it's The National's ability to sweep you into the emotion of their songs that makes them extra special. And as they closed with an acoustic version of 'Vanderlyle Crybaby Geeks' and all 7,000 of us sang the whole thing with them, we knew we'd feel closer to their music from then on. Even if we can't grow a beard.
Ashleigh Arnott