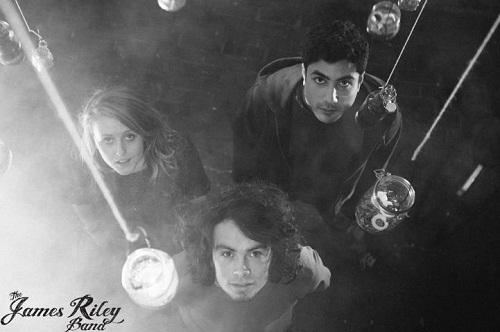 The crammed-in crowd of eager ears awaiting The James Riley Band's set tonight at The Bedroom Bar demonstrates a pay-off for the hard work in the lead up to the launch of the debut, Lay Me Down EP.
"You met me at a festival, I was dressed in a cowboy hat and skirt," declares one man who grabs James before the gig. The past year has seen James Riley and his many backing musicians descend upon venues, festivals and streets across the UK with their brand of folk, bluegrass and soul.
Busking en route to gigs, the James Riley Band are musical grafters. This was recognised by the Mayor of London Gigs Competition, which they won last year following a summer of outdoor performances around London.
Tonight's set kicked off with leg-slapping, arm-in-arm romp 'A Letter to You Sam'. This, along with the next two upbeat songs, has a distinct American taste – clearly evidence of James' dual heritage.
James' songwriting fuses the American and English folk influences seamlessly, whereas others joining these genres can have a tendency to sound contrived.
We've seen James play before on his own, and he stood out as a calmly charismatic performer, but tonight with delicately arranged instrumentation filling out his songs, he was able to let go. He bounded up and down on the stage, clearly connected with his beaming band, basking in the energy of the crowd swelling to all corners of the venue.
The rhythm section comprised of upright bass and drums and was complemented by a spoon player who particularly excited front row members with a storming spoon solo. Two backing singers, electric guitarist, cellist and violinist completed the lineup.
A mid-set dip in tempo expanded the band's sound with the traditional English folk-tinged 'Ruby Rabiger' and the soul-infused purr of 'Even Love'. A sing-a-long of the EP's title track closed the set, and the first night of the band's UK tour. We wonder how the nine members will manage to transport themselves from venue to venue on this week's tour, let alone fit on the stages of them all.
Bigger stages surely beckon for this joyous crew. It was a thrill to see artists at that exciting stage where people are flocking to support them, knowing that James Riley his band won't be one of the best kept secrets on the London folk scene for much longer.
words: Zoe Konez