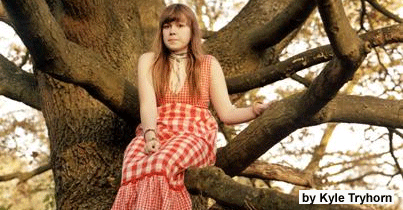 At For Folk's Sake we're seriously considering changing our name to welovealessi.com. From the moment her EP The Horse got its first rotation on the stereo at FFS HQ, we have been desperate to hear her play.
The 10th December saw The Indoor Picnic celebrate 'Femme Folk' at the tiny Wilmington Arms in Clerkenwell. A folkster couldn't wish for a better setting: the stage was bedecked with fairy lights and roses, the floor covered in cupcake-laden picnic tables and the respectful silence ever-so-politely requested by our compere was observed by the eclectic crowd (one of whom was dressed as – and may have actually been – a proper YMCA-style biker).
Alessi has an effortlessly charming stage presence, and on this occasion the odd forgotten lyric made her all the more disarming. The enthralled audience were treated to a seemingly off-the-cuff setlist, highlights of which were performances of The Horse, a winsome two-minute ode to a lothario, and a folked-up cover of Neva Denova's A Man and His Dream. Alessi's set, which was punctuated with wee chats with her mum who was in the front row, didn't disappoint this extremely high-hoped reviewer.
See Alessi's performance of The Horse at The Indoor Picnic here.

Read the FFS review of The Horse EP here and our interview with Alessi here.