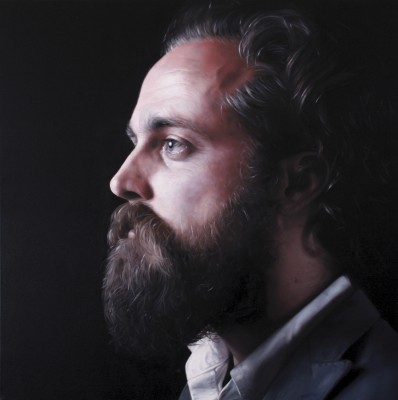 "'Time isn't kind or unkind,' you like to say, but I wonder to whom, and what it is, you're saying today" sings Sam Beam in 'Tree By The River', another gleaming example of his storytelling prowess to add to his growing collection. Time seems to be increasingly kind to Beam, who has progressed, under the musical pseudonym Iron & Wine, from the skeletal, whispery folk of his 2002 debut The Creek Drank The Cradle to this year's altogether more electric release, Kiss Each Other Clean. Tonight he seems to be saying that he's moved on from the quiet poeticism that characterised his earlier work, and has stridently moved onto a sound much more assertive. 'We played a quieter show in Hackney last night', Beam explains before he and his full band begin, 'so it'll be nice to play some louder stuff tonight. We'll talk a little, play a little…or maybe we'll just play'. Perhaps this explains their unrestrained letting-loose this evening.
Opening with album centrepiece 'Rabbit Will Run', the theme for tonight is instantly made apparent as the bold brass section and saxophones take prominence. Their presence seemed a little too insistent at times, but the occasions on which they held back allowed for beautiful dips of quietness, swelling again to the fullness of the multi-layered instrumentation. It's easy to get the impression that Beam and company aren't out to impress the audience, though impressive they are, and the lack of spoken interaction affirms this. Beam doesn't even concede to the concert etiquette of introducing his band, yet this doesn't come across as rude or arrogant.
Lyrically, Beam's style is to tell stories from a distance. He deftly conjures scenes, but the narratives are careful not to reveal all. While his instrumentation may have evolved and elaborated, his lyrics remain consistently luminous with ambiguity.
Attempting to break tonight's absence of conversation, Beam declares: "So it's Monday, that's a good start, good start…okay I'll just play music." The band swoop into a beautifully refined version of 'Half Moon', which ends with extended backing vocalists at the forefront, repeating "doo wap bada baa daa da", a phrase we never thought we'd be able to enjoy until that moment.
Things kick off again as they launch 'Wolves (Song of the Shepherd's Dog)', and the brass section return more raucous than before, ultimately surrendering to Beam's voice and guitar to conclude the song. Similarly, 'Walking Far From Home' is strident, with soaring backing vocals and the ever-present brass section, leading aptly into a jazzier version of 'Boy With a Coin' than I'll probably ever hear again. He makes a quip about the fact we all know he's coming back for an encore before 'ending' with the aforementioned 'Tree By The River', which is the song that tonight translates best from record to stage. Or maybe it's just our favourite.
Angeline Lilles