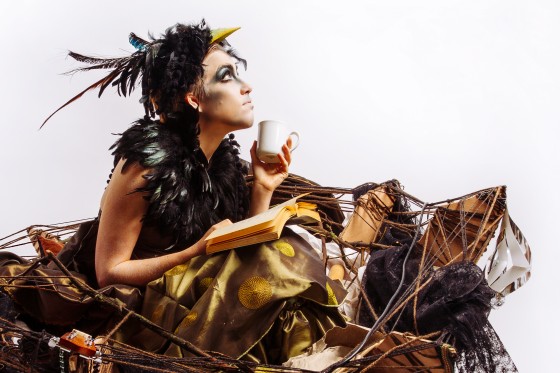 Kerry Andrew is You Are Wolf, an experimental folk artist released her debut album Hawk to the Hunting gone. We were so intrigued by her sound, that we asked her to put together a playlist of influences. Over to Kerry:
Some people might be surprised to see that most of the influences on my album are not folk-based; but what I'm really interested in doing is wrapping a whole load of non-folk sounds around traditional songs and stories. Yeah!
I absolutely love the explorative vocal brilliance from the likes of Camille (her oft-close collaborator MaJiKer produced my album), tUnE-yArDs and Bjork, but my interest in unusual vocal music especially goes back to American experimentalist Meredith Monk and '90s Belgian a cappella group Zap Mama. I've always had a massive interest in unusual vocal sounds from around the world, such as the otherwordly sounds made by tribes in the Central African rainforests.
My background's in experimental classical music, and wanted to have a little sense of that on the album. I was totally thinking of one of Gavin Bryars' most famous pieces when writing the music for 'The Buzzard's Heart'. Go on, I defy you not to cry when listening to this…
Eliza Carthy was my real introduction to traditional music and its possibilities with her early double album Red Rice. Lisa Knapp does lovely inventive things with folk songs, and there's no better than Alasdair Roberts (who guests on my album) for dazzling lyrical brilliance and tangling together folkloric tunes and themes. I've also always been into spoken word, writing and storytelling, and love Laurie Anderson's themes and spooky delivery.
At the end of the day, though, it all comes down to the sheer beauty and darkness of those bare-bone traditional songs. I'll leave you with a bit of unadorned harmony singing by old-school Sussex crew The Copper Family – I practically bawled my eyes out when I saw them sing live, pints in their hands, last year.
Camille – Ta Douleur (Le Fil, 2005)
tUnE-yArDs – My Country (w h o k i l l, 2012)
Zap Mama – Brrrlak! (Zap Mama, 1994)
Meredith Monk – (Hocket Live, 2004)
The Polyphonic Singing of the Aka Pygmies of Central Africa
Gavin Bryars – The Sinking of the Titanic (1975)
Eliza Carthy Adieu, Adieu (The Flash Lad) from Red Rice (2001)
Lisa Knapp – Bitter Withy (Wild and Undaunted Youth, 2007)
http://www.youtube.com/watch?v=Qqk70h9_NyI
Alasdair Roberts Brother Seed (A Wonder Working Stone, 2013)
Laurie Anderson – Pieces and Parts (Life On A String, 2001)
http://www.youtube.com/watch?v=Y992jl7bSLU
The Copper Family – The Seasons Round
http://www.youtube.com/watch?v=vQ9-uWXU4oU