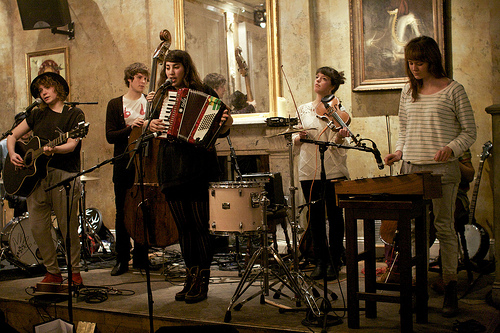 FFS was lucky enough to go to the  showcase of Peggy Sue's forthcoming Debut album Fossils and Other Phantoms on Monday night, where we were treated to a play through of the entire LP by Rosa, Katy, Olly and friends.
The album is a beautifully coherent piece of work, designed to be played all the way through, and what better setting than The Old Queen's Head, where the plush-with-a-twist decor was enhanced with a huge backdrop painted by the band's artist of choice Ben Phillips.
We were treated to appearances by the band's string section Becca Mears and Emma Kraemer, Lauren Doss of Mechanical Bride, Ben from Mariners' Children and the Willkommen Collective's Marcus Hamblett.
Both Katy and Rosa were in fine front-woman form, with their two lead-singer worthy voices belting out surprising spine-tingling harmonies. The genial atmosphere and the chat between the girls on stage and their friends and family in the audience made it a thoroughly cosy affair, but I wouldn't be at all surprised if their album goes down as well with critics as it did with the friendly crowd assembled in Angel.
Fossils and Other Phantoms will be released on 5th April. The tracklisting is as follows:
Long Division Blues
Yo Mama
I Read It In The Paper
Green Grow The Rushes
Watchman
She Called
Careless Talk Costs Lives
The Remainder
Matilda
February Snow
Fossils
The Shape We Made
Photographer extraordinaire Anika has kindly let us post her photos of the night below. Check out more pictures on her Flickr and visit her blog for some very-reliable-indeed music recommendations.
Words: Lynn Roberts