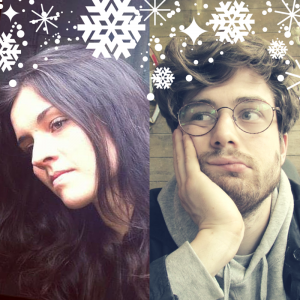 Two of our favourite songwriters Joe Innes and Hattie Whitehead are teaming up for a very special Christmas gig in London next week. Joe and Hattie both love music and Christmas and they want to make sure you make the best of the season too. Now we're not suggesting you skip the Mariah Carey and Jona Lewie this festive season, Santa forbid, but here's some slightly more (mainly) leftfield choices with which to pepper your Christmas playlists.
Hattie says:
1. Nat King Cole – The Christmas Song
https://www.youtube.com/watch?v=SOszvL9lgSs
There's just something very comforting and festive about a good old jazzy Christmas song, especially when it talks about Chestnuts roasting on a fire. And what better voice to sing it than the velvety tones of Nat King Cole! This one has always been a classic in the Whitehead household at Christmas.
2. Brenda Lee – Rockin' Around the Christmas Tree
https://youtu.be/_6xNuUEnh2g
Home Alone at Christmas… what more can be said. Especially in the scene with this song, where Kevin shows some mad skills in puppeteering and multi-tasking.
3. Joni Mitchell – River
https://youtu.be/nAK9Pj5-QXY
I did a Christmas cover of this song a couple of years ago. Joni Mitchell is a big favourite of mine, and this song is no exception to her beautiful writing. I think she may be one of the only musicians that can make Christmas melancholy successfully!
4. Low – Just Like Christmas
For an album titled 'Low Christmas', this song is pretty uplifting. Probably the most cheery track on the album from Low, those sleigh bells in the background make me want to get myself a nice glass of mulled wine and a mince pie!
5. The Beach Boys – Little Saint Nick
I only discovered recently that the Beach Boys did a WHOLE Christmas album! What have I been missing for the last 26 years?! Christmas day from now on will definitely be surf-themed. Sorry family.
Joe says…
6. The whole Sufjan Stevens Christmas album [You've gone off brief a bit there, Joe – Ed]
I put this on every Christmas, and my dad says: 'What the hell is this crap?' Then he puts Steeleye Span on instead. Then I say: 'What the hell is this crap?' *
*I don't think Steeleye span is crap
7. Laura Marling – Goodbye England (Covered in Snow)
I remember seeing Mumford and sons before they were famous in a Christmas show at Notting hill arts club, Laura marling played too, and she played this song… It made me feel super Christmasy, and I wrote it into a song. Scroll down to 'santa says relax'.
8. Christmas Is Going To The Dogs – Eels
The perfect alt Christmas song, whether it's about a Christmas gone awry or literally about dogs… Who knows?
9. Joe Innes & the Cavalcade – Santa Says Relax
So I'm just going to plug our new Christmas single. It's about the horrors of shopping at westfield at Christmas… Enjoy.
10. Frozen – Let It Go
Nuff said.
11. Bob Dylan – Must Be Santa 
Dylan does his best impression of a muppet in the fantastically surreal video for this tune. It's based on a German drinking song, and you can really tell.
Hattie Whitehead and Joe Innes & the Cavalcade are hosting a festive special double headliner. Hattie will be playing with a ten piece band and Joe's got Patch & the Giant's Angie Rance joining him on trumpets to celebrate the release of his Christmas single. The gig is on 8th December at St Luke's Church in Holloway, and of course there'll be mulled wine and mince pies, because Christmas. Tickets are available from We Got Tickets.