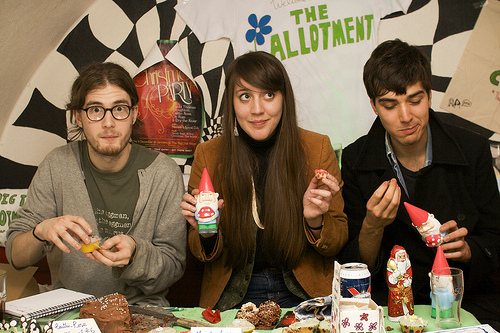 We've recorded the second Allotment podcast, which features live performances from Alessi's Ark, Caitlin Rose, Tristram and Joe Innes. As well as a bit of chat about The Allotment and FFS.
We don't claim to be podcast-making experts by any means, but we do claim that the music featured is very good indeed.
You can stream and download it from this handy little widget.
Welcome to the Allotment #2 by ForFolksSake
Our next Allotment show is tonight featuring She Keeps Bees, Lulu and the Lampshades. It's all sold out so we hope you've already got your tickets and are coming along.
We've got another gig lined up on 28th February at the Slaughtered Lamb in Clerkenwell. Scary Mansion is headlining with support from The Tailors and Line & A Dot. Get your tickets from We Got Tickets.
Tracklisting
Alessi's Ark – Walk the Wire (live at the Allotment)
Alessi's Ark – Pinewoods (live at the Allotment)
The Dufflefolks – Ley Lines
Tristram – Zombie Holocaust (live at the Allotment)
Tristram – Someone Told Me a Poem
Joe Innes – Call Me Al (live at the Allotment)
Joe Innes – Life Size Doll House (live at the Allotment)
Caitlin Rose – Shotgun Wedding (live at the Allotment)
Caitlin Rose – Answer In One of These Bottles (live at the Allotment)
Tristram's MySpace
Caitlin Rose's MySpace
Joe Innes's MySpace
Alessi's MySpace
Dufflefolks' MySpace