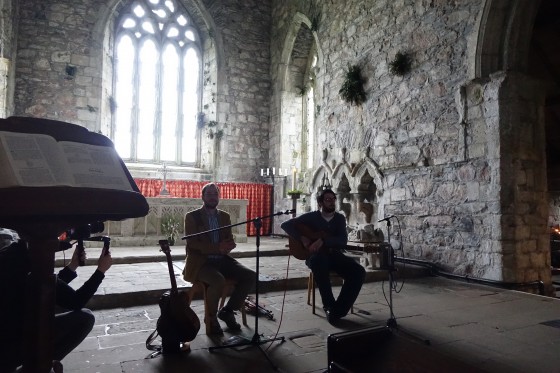 In 1937 Neil Gunn sold his house, quit his job and went off in an old converted lifeboat for a summer to inspire his writing; voyaging around the west coast of Scotland. He wrote about the various communities on the way, and went on to become one of Scotland's most prolific and creative fiction writers.
Last summer fiddler/composer Mike Vass frightened all of his friends and family by spending several weeks comatose in hospital, struck down by a very rare form of Lyme's Disease which caused meningitis and encephalitis. Whilst he was recovering in his hospital bed he was given a copy of Neil Gunn's non-fiction account 'Off in a Boat' to read. Mike has a lifelong love of sailing and was so inspired by this book that he decided that once he was well again he would recreate Gunn's original trip to inspire his own composing. So that's what we're doing now: spending the month of May sailing this epic voyage. And as project manager, I thought I should at least get to come too (even though I've hardly done any sailing in my life and am definitely prone to seasickness).
The route is planned around the locations visited by Gunn as described in his book: Duntulm, Skye; Portnalong, Skye; Eigg; Arisaig; Tobermory; Bunessan; Iona; Oban; Kentallen; Fort William; and finally travelling up the Caledonian Canal to Inverness and eventually reaching Nairn for a homecoming celebration. The aim is for Mike to perform a series of concerts in the various ports, absorb the inspiring beauty of the west coast, and come home to write a new album to be toured in October. We've had a huge amount of interest and positive feedback about the project so far and support from Enterprise Music Scotland, Creative Scotland, Calmac Ferries and House of Lochar who originally published the book.
Concert 1: The Red Roof Cafe, Skye
Our first stop was Skye, where NG bought his boat, The Thistle. One of the joys of this trip is that different guest musicians are joining Mike for each concert, so we arrived at Portree with harpist Jennifer Port and her husband Graeme. The guest musicians mean that each local concert will be a one-off, flavoured by the place and the people performing with him. Mike spent a few weeks in the School of Scottish Studies Archives in preparation for the performances, looking for music local to each area he was to visit, transcribing them and arranging them to give something unique to each performance. You can read about that here. The Skye visit was characterised by transport logistics – it's not simple to get about Skye if you don't have a car, and changing weather conditions meant we had to have contingency plans in place and public transport identified. Fortunately a few very kind people were able to give lifts and be generally brilliant. Us inexperienced sailors were also all severely seasick on the first voyage and I honestly thought I wouldn't make the month if things were going to be like that. Luckily things have got better.
Concerts 2&3: Eigg and Arisaig
Guitarist/flautist Sean Gray and piper Angus Binnie met us in Eigg for concert number two. We were also joined for the first time by a couple of film-makers who are making a documentary about the trip. We'd had some lovely sailing by that point and had probably anticipated some kind of sleepy island watching the ferry come in and out and diligently shutting down for the Sabbath. Suffice to say Eigg folk are pretty wild, and anyone who has the privilege of being a guest on that island is in for an exciting time of it. By this time we were 7 of us (Mike has quite the entourage and the boat itself is skippered by his dad David) and it felt pretty crowded on the short crossing from Eigg to Arisaig. The numbers swelled again as Tia Files and Eilidh Shaw also joined the performance team for a mega line-up for the lucky Astley Hall audience that evening.
Concert 4: Iona
We have been selling copies of Off in a Boat and had sold out of books in Arisaig. Fortunately the publishers had diligently sent the last of their stock to the Iona Post Office for us, and are now getting some reprinted in time for the next gig in Duror (the closest hall to Kentallen). It's amazing how taken people are by the book, actually. It's selling much better than any of the CDs!
Each concert has been coloured by something different. Eigg and Arisaig will always remain in my memory beautiful sunny places full of mad and welcoming people. Mull and Iona are mysterious lands picked out in drizzle, mist, and gales. Guitarist/fiddler Innes Watson joined us in Tobermory for the trip round to Iona. He didn't get the smoothest of sailing experiences but he did get to play in the gorgeous acoustics of Iona Abbey. Iona was such a different experience from the likes of Eigg, but the hospitality was excellent and the audiences enthusiastic. Read more about it here.
It's hard to condense the experience of 20 days aboard a boat into a short blog post. I'm currently sat in the cockpit of the boat, Windsong, as she spins lazily on her mooring in Oban Bay, using up the last of my laptop battery and listening to Mike composing below. I'll be back soon with another update on how the tour is going including the upcoming Oban Fèis workshop and final two concerts, as well as the journey up the Caledonian Canal which will be very different again. In the meantime, you can read more detailed blogs as well as a pile of photos and videos on the project website: www.inthewakeofneilgunn.com or follow us on Twitter (Mike on @saystheking or me @UnroofedRecords) with hashtag #inthewakeofneilgunn.
Charlotte Hathaway, Oban.