HAPPY NEW YEAR! Did you have fun? Was it great? Was it full of port and disgusting levels of over-indulgence?
Having spent a good couple of days as a statistic 'home without power' I thankfully saw Christmas through with a fully cooked turkey and electric lights before re-joining my bandmates to see 2014 in sweaty, most  glittery style and watching the stupendously talented John Langhan Band, Whiskey Moon Face and The Turbans amongst others (all very highly recommended).  We've been trying to beat the January melancholy by working on new tunes ahead of our tour supporting Keston Cobblers' Club and we've have also unleashed a new video for our song, Daniel. Spot the cameos?
So January 2014 is an important birthday for The Sunday Fete – it turns two! I can scarcely believe we've been doing this for a whole two years and we're thrilled that it's still toddling along. I found a few photos of the first ever Sunday Fete and thought I'd share…dating from before Liam could grow a real moustache; the misty memories of our youth.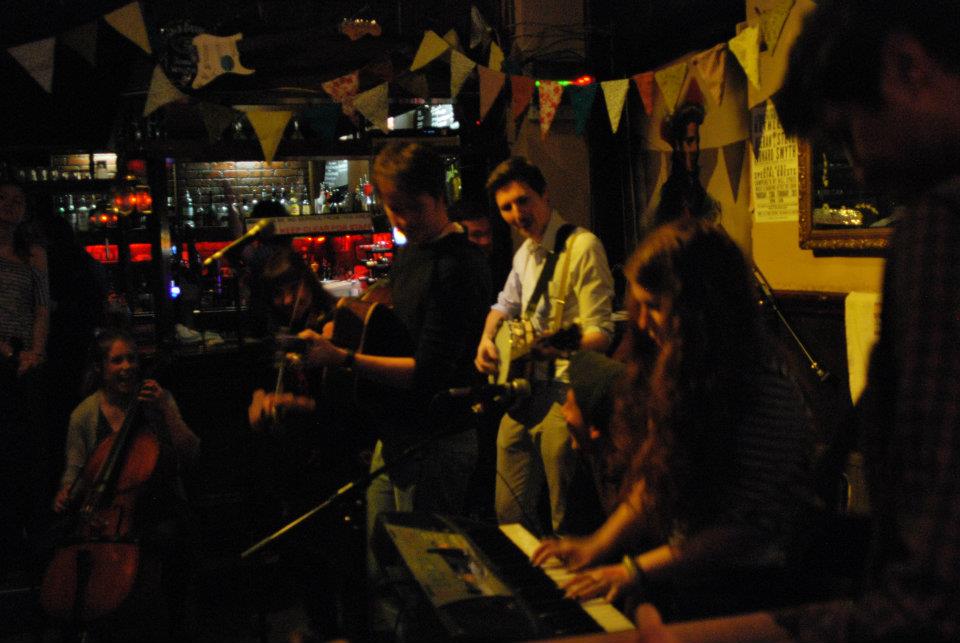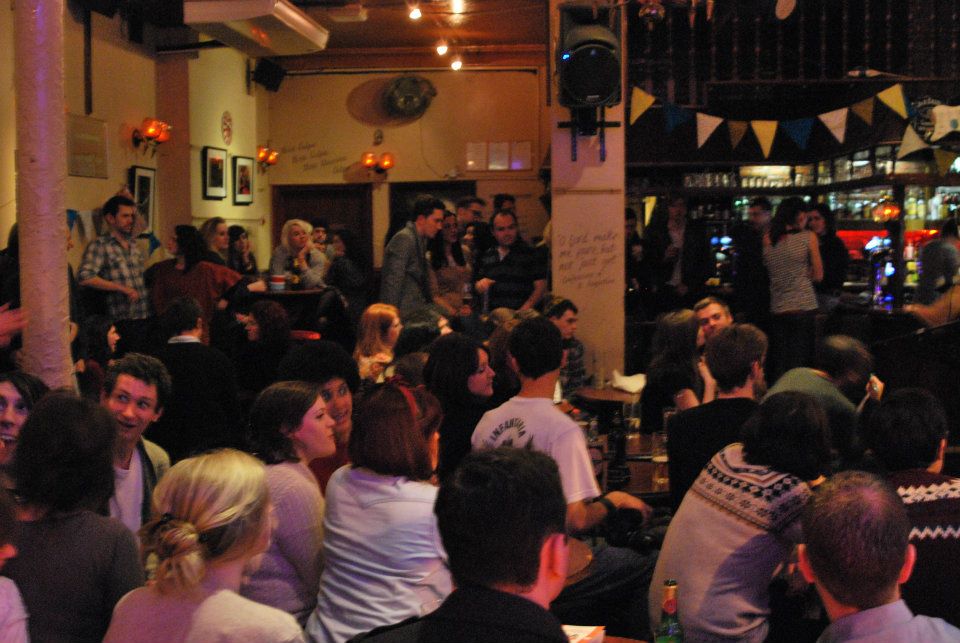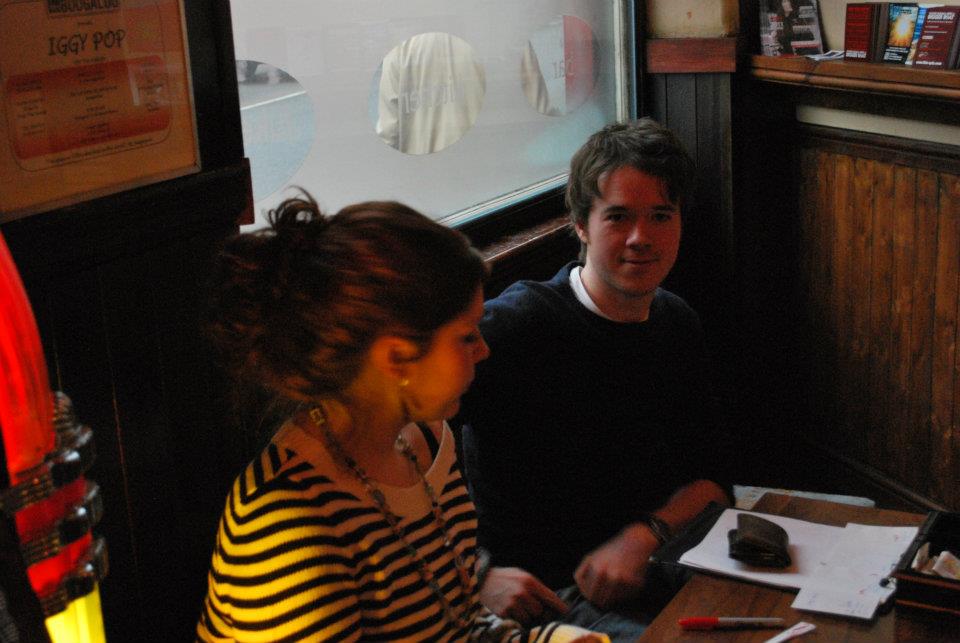 So to celebrate our second birthday we've invited back a couple of old friends along with some newbies, from all around the UK – Orkney; Liverpool; Birmingham and…well…Hackney. The Sunday Fete 2nd Anniversary is on Sunday 26th January at The Boogaloo, Archway Road, London N6 5AT. Doors are at 3pm and we shall be hosting a whole day of music from the artistes below before we close the evening with our own set. I think it's over-stepping the mark of self-indulgence to write about ourselves each and every time so please see here www.patchandthegiant.com for more info about both us and The Sunday Fete.
One of the first bands we ever had to play at The Sunday Fete is Lazy Heart Parade and we have come to consider them brethren of kind. As fabulous as the day we met them they are a 6-piece band created by Colin Smith as a 'soapbox on which to tell his confessional stories about a life spent as a geographical and emotional drifter'. With lovely twinkly glock notes, trumpet shining, finger-picked small stringed instruments and one of the best beards in town from the frontman we are proud to welcome back these lot.  The Guardian recently picked their song Christmas In Bed as one of their reader submitted Top Ten New Christmas Songs. So despite it being totally the wrong time of year to share it, share it I will because (i) it's always Christmas in my heart and (ii) I really like the song.
Last year we got a pleading email from Paul Straws a few days before The Sunday Fete asking if we could squeeze him in for a few songs because he was all the way down from Liverpool for a gig which was then cancelled by another (un-named) promoter, so we took pity on the lad and opened our doors. Low and behold him and his band of merry misfits (his words, not mine) were fantastic and we immediately asked them to come back properly.
Praised by Tom Robinson for his 'great songwriting', Paul and his band present something beautiful and which is awash with mandolins, ukulele, glorious harmonies and gorgeous cello. They have toured extensively, playing with artists ranging from Newton Falkner and Ed Harcourt to Maximo Park, and venues such as Glastonbury and Wembley Stadium. Having spent most of the Christmas holidays re-populating my Beatles collection on CD (and finally admitting to myself that cassette tapes are well over) I feel it's most to apt to share Paul's new year offering, Mr Harrison's Something.  It has a super little animated video too.
Following the first instalment of this very blog (hurray it has a reader!) we got an email from Oh Stockholm! asking if they could come and play. Our Birmingham contingency for the day, their line-up seems to have swelled and chopped over their years together but now a steady 4-piece, in their words, Oh Stockholm! has always been about folk songs which tell stories – songs which are as fragile as they are grand, and as equally bleak as they are hopeful; in my words – lovely delicate vocal harmonies, honeyed fiddle and just the good side of twee. Choosing to share with you their video for Oh Now Looking Back which I'm bitter to acknowledge features more fake blood than our video for Daniel (but our fake blood did come from the set of Harry Potter…oh yes).
Mock Deer is the alter-ego of the lovely Ricky Damiani (the mastermind behind Folklore). We've been meaning to get him to The Boogaloo for a while but he deserted London for warmer climates throughout most of 2013 travelling the world, he's back in London town and sharing new material, which we're very eager to finally hear.
Merlyn Driver was brought to our attention via the Scottish PATG contingent. With one of those beautiful Celtic voices that cuts right through to the soul. When I say those it's because I cannot think of an adjective which describes it with justice. It has beautiful tinges of fellow Orcadian Kris Drever …and I realise one could easily call that lazy journalism because their names sound a bit similar and they're both from the same island group but I can hear it and I like it… it's rich and full and sounds every bit an instrument unto itself. Making his debut at The Sunday Fete, we welcome with open arms Mr Driver. I'm on my third consecutive play of his song Rain now so this is what I choose to share with you.
Angie/Patch & the Giant's 9 tips for 2014: