Hello. I'm the Interview Editor here at For Folk's Sake. I look a bit like this.

I've teamed up with the artist Al Lewis and awesome FFS writer Puja Maniar to put on a folk night in Tooting Market, South London, called Music From The Market. We want to promote emerging and established folk talent to a South London audience, but you can come if you live in other parts of London too. Here's Al singing a song:
Our first show back in September featured Al, Gibson Bull and Zoe Konez who played to an enthusiastic group of folk-lovers who drank the bar dry. Our next show on the 5th December has a bumper Christmas line up with not three but four amazing artists – you can check them out below if you like.
We're really happy that we have Faith Taylor, a fast-rising star on the London art-folk scene, to start things off. She plays 'finger-picked alternative folk with confessional and/or political themes' and has released three successful EPs. She's now working on her debut full-length. This song is great:
Next, we have Mississippi native and now North London denizen Alva Leigh. She released her self-titled debut record to huge commercial success, with songs being used in TV series Grey's Anatomy and elsewhere. Playing warm, compelling folk pop with a dash of jazz, Alva is like a poppier Tori Amos or bluesy Regina Spektor. This is the song that was on the telly:
As if that wasn't enough, we've also got Fabian Holland who has just released his debut album to fairly rapturous reviews. If you love Seth Lakeman, Gilmore and Roberts, or anyone who can tell a darn good story, you'll love Fabian. We especially like that he lives on a houseboat. You can see it here on the video to our favourite song by him.

Rounding off the festivities is our very own Al Lewis or, as we like to call him: Just our mate who's recently been touring with Jools Holland and his band and only happens to be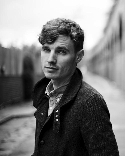 supporting him again at the Royal Albert Hall on Friday. Throw in a BBC2-play-listed song, a nomination for Welsh Music Prize and a recent record that wowed critics and public alike, and you've got a bit of a star. He also likes curry. This is a picture of him in case you've already forgotten what he looks like, or you can watch him again in the video at the top.
We would absolutely love it if you came along and had a mince-pie with us. To make this a bit easier, here are all our details:
Facebook: https://www.facebook.com/events/677563628944164/
Twitter @musicfromthemkt                   wegottickets.com/event/248627
(In case you were wondering, Puja looks a bit like this)