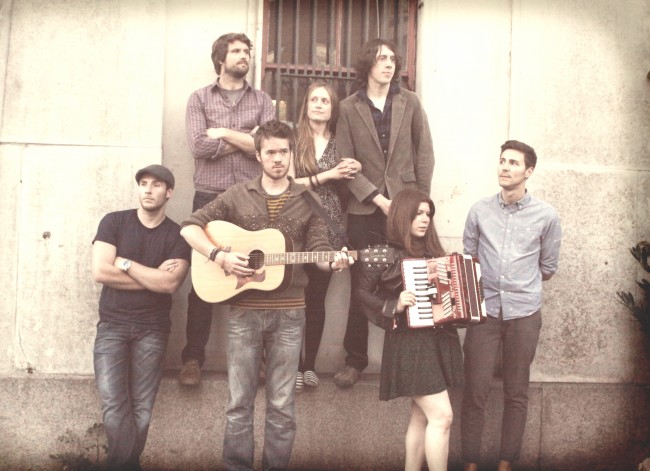 Patch and the Giant are a harmonising, foot-stomping, roof-raising seven piece folk band based in London.
They run monthly shows at the Boogaloo in Highgate, North London, which always have fabulous line-ups. In this, her second installment, we've asked Angie from the band to tell us a bit more about the artists playing this Sunday 27th.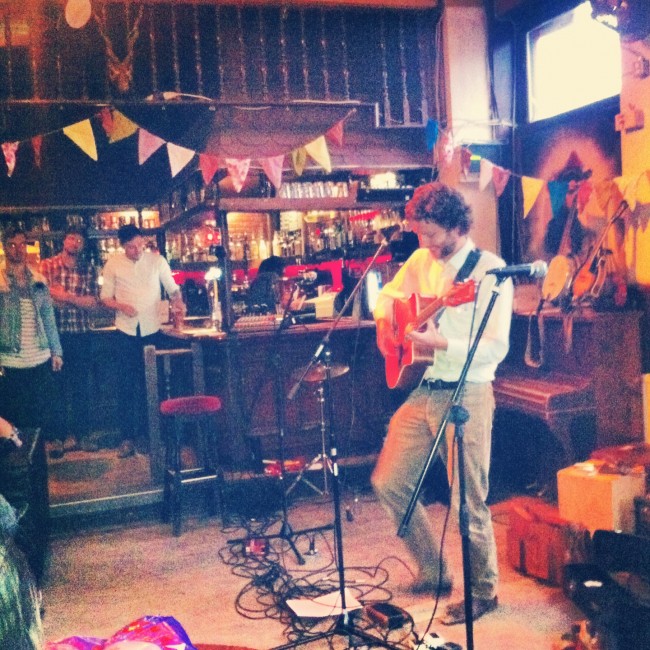 On 29th September we returned to our home from home at The Boogaloo after a five month absence. It was like going back to school after the summer holidays except we actually wanted to be there and didn't have to wear stupid jumpers. Slightly (very) anxious that nobody would turn up and that the world had forgotten all about us, we were subsequently ecstatic to see the venue fill up to near bursting throughout the day. The quality of music was even more superb that we could have hoped for and we even had a special guest performance from Danny Green (Laish) which as they say, was nice. The Boogaloo also has a new pizza chef camped out back in the stables and I made an impressive batch of scotch eggs for the occasion. Sophie Jamieson made shortbread but I like to think the scotch eggs were the bigger attraction (food wars!)…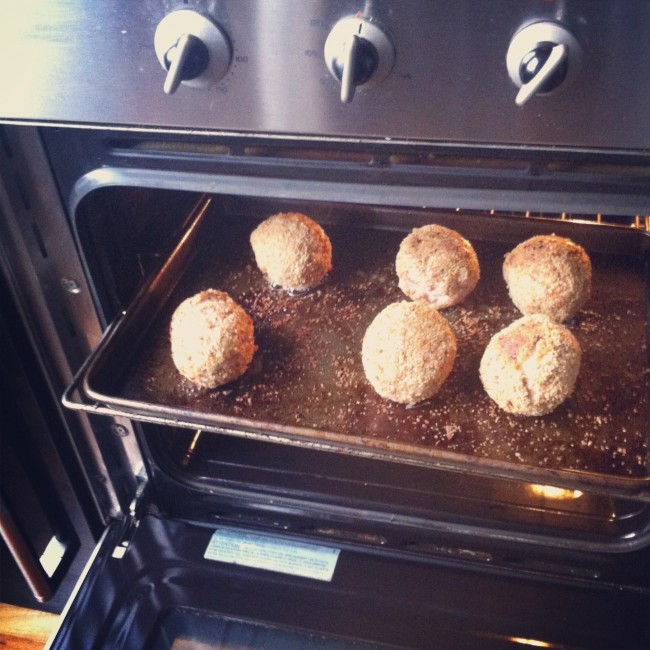 So next we return to The Boogaloo on 27th October for another day of musical and culinary delights. It's with great regret that we will actually, for the first time EVER in almost two years, not be playing at this Fete ourselves owing to half the band being taken away by various wedding and holidays. Sorry everybody. Fear not we will still be behind this Sunday Fete all the way and we have seven super acts joining us – for a preview have a listen to our special October Sunday Fete playlist.
The first time I heard of Slow Wolf it was via our good friend Steve, whose night Before The Gold Rush they played at and duly dedicated to one of their songs 'to Neil Young, who died today'…of course Neil Young hadn't died, it was poor old Neil Armstrong who'd actually popped his clogs that day. The audience of die-hard Americana fans took some reassuring….this is irrelevant really to their music, obviously, but a noteworthy anecdote. Slow Wolf are a London based experimental folk/blues group whom I've come across live a few times since Neil's death day and I think they're superb, there's something epic about their sound which transports you utterly into another time and another place, for me it's to the set of Withnail and I. I'm not totally sure why. We're extremely happy that they are coming to The Sunday Fete as guest headliners so please make them very welcome (unless they tell you that your hero is dead).
Watch the aforementioned performance at Before The Gold Rush:
Hot Feet draw together a range of musical influences including delta blues, sixties folk and world rhythms. Clamorous in places, delicate in others; sometimes offering raucous, earthy uproar and a wistful, yearning narrative within the same song. Their EP 'Wood House' ranges from stomping gallops to tender ballads, and has been lovingly and impressively produced by Pete Roe, longtime sideman of Laura Marling and a gifted songwriter in his own right. Liam met Hot Feet at a gig he was playing with Sophie J and texted (tutt tutt…) me half-way through their set to say 'Ange we absolutely have to invite them to The Boogaloo they're my new favourite band'…or something to that end. Having known the name I dutifully checked out the music and found it both gorgeous and timeless and I'm very happy they agreed to come and play.
Enjoy their video for 'Wood House'
'Independent Tea-Induced Art-Folk Acoustic Music'. Fitz's 'art folk' sound has grown out of songwriter Sam Fitzpatrick's intricate guitar musings, that ebb and flow with his honest lyrical anecdotes. A collective of close friends provide a sparse and carefully-crafted accompaniment, woven into swells of harmonic warmth that delicately contrast Fitzpatrick's wistful melancholy. We met Fitz when taking part in a music video for mutual friends To Kill A King and had a nice old chat with them (a lovely bunch). They've since been touring with other mutual friends Keston Cobblers' Club and we're really excited that they're coming to play for us.
Whilst writing this blog I've had the pleasure of playing their video for 'Maps' in the background which leaves me both excited to see them live and hungry for a woodland hike.
Now an old pal of ours, we're very happy to have Lucy Cait back at The Boogaloo. Our label-mate and long-time partner in crime, Lucy's sung with us several times and was main support at our EP launch earlier this year.
A mysterious package if ever there was one, Lucy always surprises the first time you see her sing; with a delicate but soulful voice that seems almost disconnected from the 20-year old on stage. Her lyrics, and the understanding and depth that she imbues them with, seem far beyond her years. Her debut EP, Gabriel's Wharf, is available via Folkroom Records (and you may recognise a couple of familiar voices and trumpet tones).
Check out the video for the title track

A lovely collaboration between Alan from Giles Likes Tea and Maya from Pocket Satellite. We're yet to hear Lights on, Passenger live but were all smiles and joy on listening to Maya's band Pocket Satellite (more about them next month) when they played for us at The Fete last year so when Maya wrote to me and asked if she and Alan could come and play I was only too happy to say yes. Excited and intrigued to see what they have to offer.
Pick of the tunes: 'From This Little Roof'
Another new band on our radar…hailing from the South-Coast of England, Hometown Show are about to tour their debut album 'Love, Liquor and Late Nights' (released just in time for this merry showdown). Hometown Show has an authentic Americana/Bluegrass/Country sound, heavily influenced by the old-time string bands of appalachia and many modern day folk heroes.
Check out their session for Balcony TV Nashville here:
Mutual friend via Folkroom Records, singer-songwriter Cameron Niven is influenced by the likes of John Martyn, M Ward, Jackson C Frank and Tom Waits. We've had the pleasure of seeing and playing with him a few times and believe he will be the perfect opener for our October Fete.
So we hope very much that you'll join us this Sunday, 27th October. We'll see you there.
Angie