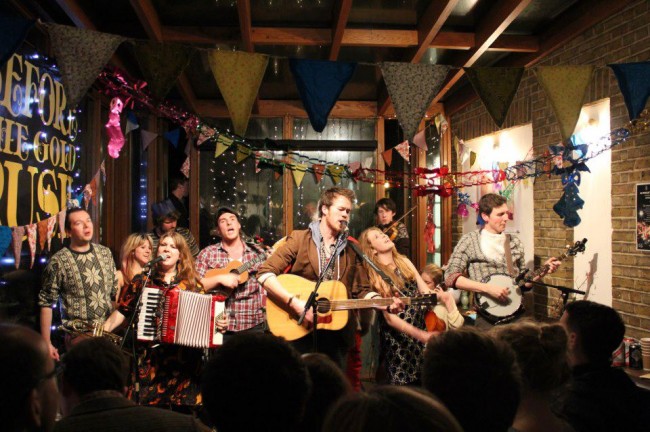 Patch and the Giant are a harmonising, foot-stomping, roof-raising seven piece folk band based in London. They run monthly shows at the Boogaloo in Highgate, North London, which always have fabulous line-ups. Not wanting to miss the chance to discover some great new music, we've asked Angie from the band to tell us a bit more about the artists playing this Sunday 29th.
Hello. I'm Angie and I'm 1/7 of the band Patch & The Giant….for those who don't know us, we'd love to know you more (here we are: www.patchandthegiant.com). We've just finished a summer of touring the festival circuit and over the coming months will be found mostly at The Boogaloo in north London, which is precisely why the lovely Lynn has asked me to start blogging.
We've been artists in residence at this little old coaching inn on t' Great North Road since the beginning of 2012 and, like most good things, this came about by happy accident. We were guests on the same radio show (one with a listener base of at least 7) as the owner… we'd never heard of his venue and he had never heard of us, yet somehow within 5 minutes of meeting he'd offered us a monthly residency and given us free reign to do whatever we wanted to at his venue. Luckily, it's worked out rather well for us both.
On the last Sunday of every month, we invite 5 or 6 other musical acts to come and play with us at The Boogaloo. It's an all afternooner and the comparison we like to draw is to sitting in your mate's living room, enjoying a communal hangover, watching a film and refusing to move for 7 hours. It's a bit like that, except that the film is amazing live musicians.
So after a little summer hiatus anyway, we're back and excited to share the line-up for our next event. Which is Sunday 29th September (from 3pm).
Nick Edward Harris – The Flood from Nick Edward Harris on Vimeo.
We are – for want of a better phrase – totally pumped to welcome Nick Edward Harris back to The Boogaloo. As well as being a thoroughly lovely chap (though never trust him with a frisbee), Nick is a progressive acoustic guitar player, singer, songwriter and all round multi-tasking genius. Like a lot of the musicians we have play at The Boogaloo, we met Nick whilst sharing the bill at another gig and we were most unanimously and instantly taken by him.
And Sophie Jamieson… we kind of have to like Sophie really, she's our label-mate on Folkroom Records and we share two of our band members. That being said, the girl is incredible and I would still admire her from miles afar. She's gigged more than anybody I know and has the spellbinding ability to silence an entire room and leave them hanging on the most minute musical detail. Liam and Alex's wingman-ship, bowing bass and general techno-guitar-wizardry add the perfect, extra dimension to her music. I defy anybody not to enjoy this performance.
I met Ringlefinch at a gig hosted by our very good friends Before the Gold Rush, they said they were a new band and gave me a CD to take home. I was intrigued, so I listened. I really enjoyed the complement of instruments and they have great enthusiasm. I'm intrigued to see them live properly…from what I've seen so far, their sound splices together different folk, swing and jazz influences, together with a feckload of stringed instruments and percussion. Should be fun.
I'd known of Late Arrivals Club via Folkroom Records gigs but neither heard nor met them until we played at the same festival as them earlier this year. I noticed from the stage during our set that they were all in the crowd sporting rather striking, matching face paint…which I thought was a good conversation piece so I went to talk to them and ended up offering them a gig. It's probably shameful to admit that I'd not actually heard them play at that point, I just liked their face paint.**
**Have since seen them play live and they're great. In their own words 'thick with vocal harmonies, stylophone solos and stories about outlaws'.
I'd seen the name Broken Boat floating around various places, mostly Facebook event invitations and, upon investigation I enjoyed what I heard so I wrote to them. Unfortunately my email went straight to junkmail (hotmail…tshhhk) so I assumed they'd ignored me…but a few months later I had a very apologetic email saying they'd just found my email and they'd love to come and play. So it all worked out. Originating as a duo and formed in Plymouth, Broken Boat are a 4-piece band based in Hertfordshire. They describe their music as a mixture of the deep emotional honesty of early Bright Eyes with an upbeat and playful tone that echoes a young Simon & Garfunkel.
Patch & the Giant's residency is at the Boogaloo, 312 Archway Road, Highgate, N6 5AT this Sunday 29th September from 3pm.