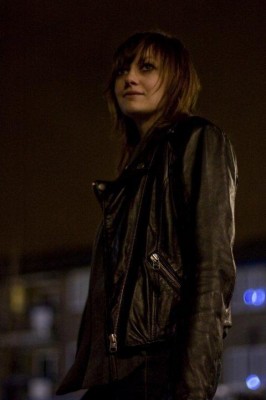 Tessa Bickers has written for For Folk's Sake in the past, reviewing and interviewing Laura Marling. A singer in her own right, a year ago she spent all her savings on booking the Union Chapel without so much as a band. This is her story…
I have this vision of stepping on stage at the Union Chapel and looking out at a packed audience – the kind of audience I've seen there myself when I've been to watch the likes of First Aid Kit and Laura Marling – and I can think… I've made it. I can die a happy woman. Then I check my ticket sales and I have to alter that vision ever so slightly. Less the crowd in Almost Famous and more the grinning, encouraging family in Little Miss Sunshine; though I do intend to keep my clothes on. Not that I'm against anyone taking their clothes off, Amanda Palmer…
Until a year ago I'd given up on music. I had mild success with my debut album, Pot Luck and I was lucky enough to play at Glastonbury Festival, my life long dream. Then I moved to London from Bath hoping for bigger and better things but mainly I was met with disappointment. It's tough to be a musician in this city and you have to have the balls to go out every night to sing to sparse crowds while selling your soul to the pockets of promoters. It's an ugly business and I guess I didn't have the balls, because I quickly gave up and got a job interviewing celebrities for national radio instead. Things seemingly happen for a reason though, because in doing that job I got to meet some heroes and learn some valuable life lessons. Highlights, aside from meeting Leonardo DiCaprio, (which taught me nothing but the photo got a lot of likes on Facebook and that's what modern society has taught us that life's all about right?) would be having a beer with Laura Marling and Marcus Mumford backstage at St James's Church and discussing why you should never read your own reviews, sitting in a room while Gemma Hayes records a live session with just me watching and chatting to a very young, very cheeky Noah & the Whale and Johnny Flynn. It had its moments that made me believe I was on the right path. Just being close to artists makes you feel more inspired to be one yourself.
Then a year ago I was asked to sing at my friend's wedding (solo, not just as part of the congregation) and my love of music was reignited. The fire burnt bright. I guess I had them there against their will, no one is going to get drunk and talk through your wedding performance, but it came to symbolise the sort of gig I longed for. One where people would listen and were emotionally connected to what I was doing. I'd done the other venues a thousand times where you sing to an unappreciative audience and you leave with a heavy heart. I was too old to go through that again, but I did miss the thrill of standing up and singing from my heart. So I set myself a goal, that would mean if I went through it again it would all be worthwhile. I withdrew all my savings and booked the Union Chapel, my favourite venue, for one year's time. After that, I wrote a list of everything I'd need to achieve to perform there. I'm aware now that it was entirely the wrong order to do it in but I had approximately 30 seconds to cheat myself before the decision kicked in and I backed out, so I went for it.
The first, and most important on the 'post- (that should have been pre-) booking the Union Chapel list', was to form a band. Although I've seen some great solo performers at the venue I wanted people to share the excitement with. People I could work towards my dream with who wanted the same thing that I did. I put some ads up on join my band and gumtree and I waited. Within two months Tess and the Tellers were formed. At the time I thought the name was really clever and if anyone asked "why the Tellers?" I could say, "well, thanks for asking, it could be any kind of teller you want it to be", but at the same time as I realised there aren't that many types of 'teller', I realised no one was interested enough to ask. But the name stuck and if you were to question it (go on, someone please ask me) I'd say we're telling the stories we write in our music as well as my story of booking the Union Chapel with nothing but a guitar, some songs and a very rusty dream. (I've just finished reading Patti Smith – Just Kids so excuse any attempts at poetic writing!)
It's just over a month to go now and I guess that mostly, I'm excited. In the few short months we've been together we've created a live sound I'm really proud of, recorded an EP I believe I'd listen to if it wasn't my music (always an important way to judge it!), filmed a music video, become true friends as a band and opened the main stage at Secret Garden Party. Now here we are… waiting to step onto a stage I've seen my idols perform on: KT Tunstall, Laura Marling, Ingrid Michaelson, First Aid Kit, Heather Nova… Yes, maybe they didn't hire it themselves without a team of people to help promote it. Maybe they were clever enough to wait until they were slightly more established before playing in a 700-seat venue. Maybe, just maybe, I am insane and too arrogant to go to the Doctors about it. I don't think it matters. It's done now. And as my friend said, "when you're on your death bed will you ever look back and regret doing it?" Well, yes actually… I might. If a fairy landed and said, "give me all your life savings and you get ten more years", maybe I'd regret it then, but I doubt it. I think I'd probably channel the daughter in Searching for Sugar Man, pull that fairy close and say "I have been rich in many things – but not necessarily material things" then take one final dramatic breath.
So here I am, rich in performance, cashing into the bank of experience and hoping that maybe, just maybe, you'll join me.
Want to? Buy tickets for Tessa's gig at the Union Chapel, London on 19th Septemberhere. Support comes from Daughters of Davis and Saint Saviour.
PS if you're wondering what was second on the 'post (that should have been pre) booking the Union Chapel list', it was "get a crowd in".