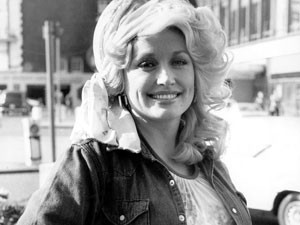 I'm on a bit of a Dolly Parton kick at the moment. It started with a late night rummage around YouTube looking for clips of her 70s TV variety show Dolly!. And has been made even stronger thanks to an excellent Radio 4 documentary about her worldwide programme to get underprivileged children reading. Seriously. What a hero.
Below are three videos from the Dolly Show. First Dolly Proves that she's the only person who should be allowed to cover Joni Mitchell (ignore the cheesiness of the video – just listen to the vocal). Next a medley with Willie Nelson and finally a pre-Trio performance with Linda Ronstadt and Emmylou Harris. Three of the best vocalists of all time singing together. We spoil you.
>> Dolly Parton Documentary | Dolly's Imagination Library | Trio by Dolly Parton, Linda Ronstadt and Emmylou Harris
.
Thanks to Charlie Waters for the recommendation of this song by Seeker Lover Keeper. Another female supertrio, it's Sarah Blasko with Holly Throsby and Sally Seltmann. Their debut album came out in Australia on Dew Process, and is available here.

>> Seeker Lover Keeper website | Dew Process website
.
Love love love the new Rozi Plain track 'Humans'. It's out now on Need No Water records and comes as a white 7-inch. WANT.

>> Rozi Plain | Need No Water | Buy Humans vinyl
.
Did you know that Jackson Browne played at a tiny London venue last week? FFS was on the Isle of Mull, otherwise we'd have hotfooted it down to the Slaughtered Lamb, where the 70s legend appeared with Jonathan Wilson and Dawes. Here are a few photos from Rob Winder, who was lucky enough to be there.
Jackson's appearance reminded me of this radio interview and session. It's from a Holland radio station in 1976 and is Jackson chatting and playing songs with his pal and fellow brilliant songwriter, the late Warren Zevon. It's free to download and the website archive.org is well worth a browse. There's tons of great stuff on there.
>> Archive.org | Jackson Browne | Jonathan Wilson | Dawes | Warren Zevon
.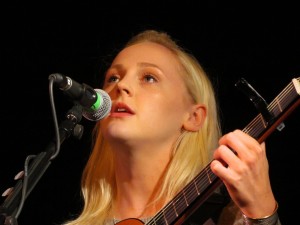 FFS's Mull trip co-incided with Laura Marling's Highlands & Islands tour – the last night is tonight in Inverness. It was the best LM show I've ever seen. About 100 people – including Roddy Woomble who lives on the island – were at Aros Hall in Tobermoray.
Laura played lots of songs from the new album, A Creature I Don't Know, including Friends, Salinas and Don't Ask Me Why. Her new band – with Graham Brown on double bass, Willkommen's Marcus Hamblett on banjo & trumpet, Ruth De Turberville on cello, Pete Roe on Keyboards and Matt Ingram on drums – have gelled wonderfully and, for my money, sound better than when she played with Ted Dwayne and Marcus of Mumford & Sons.
Laura was supported by Pete Roe, who was charming and ebullient. His set included several new tracks – so I think we can look forward to a follow up to The Merry-Go-Round EP soon.
>> Laura Marling | Pete Roe | An Tobar arts centre, Isle of Mull
.
This unseasonable video combines two of my favourite things: The Leisure Society and cosy jumpers. Why haven't I found it before now?